Today, the Kandji team is excited to release a few major updates that will streamline how Library Items are created and managed. We are also announcing general availability of Apple TV support for all customers, along with new tvOS-specific profiles.


tvOS Generally Available
We're incredibly proud to announce that, as of today, Kandji admins can manage every single Apple device in their fleet. We've added Apple TV support, adding to the existing roster of devices (Mac, iPhone, and iPad) you can manage within the Kandji platform. We know how much easier it makes IT Managers' lives when you can track all your Apple devices, manage policies, and enforce security – all in one centralized place. With this final piece of the puzzle, Kandji is a global hub for all your Apple devices.
tvOS-specific Profiles
Live today with tvOS support is also one of the most commonly used tvOS-specific profiles, the Conference Room Display Mode Profile. This profile allows you to provide custom instructions to end-users for how to connect their devices (and also prevent it from using any other display methods aside from AirPlay).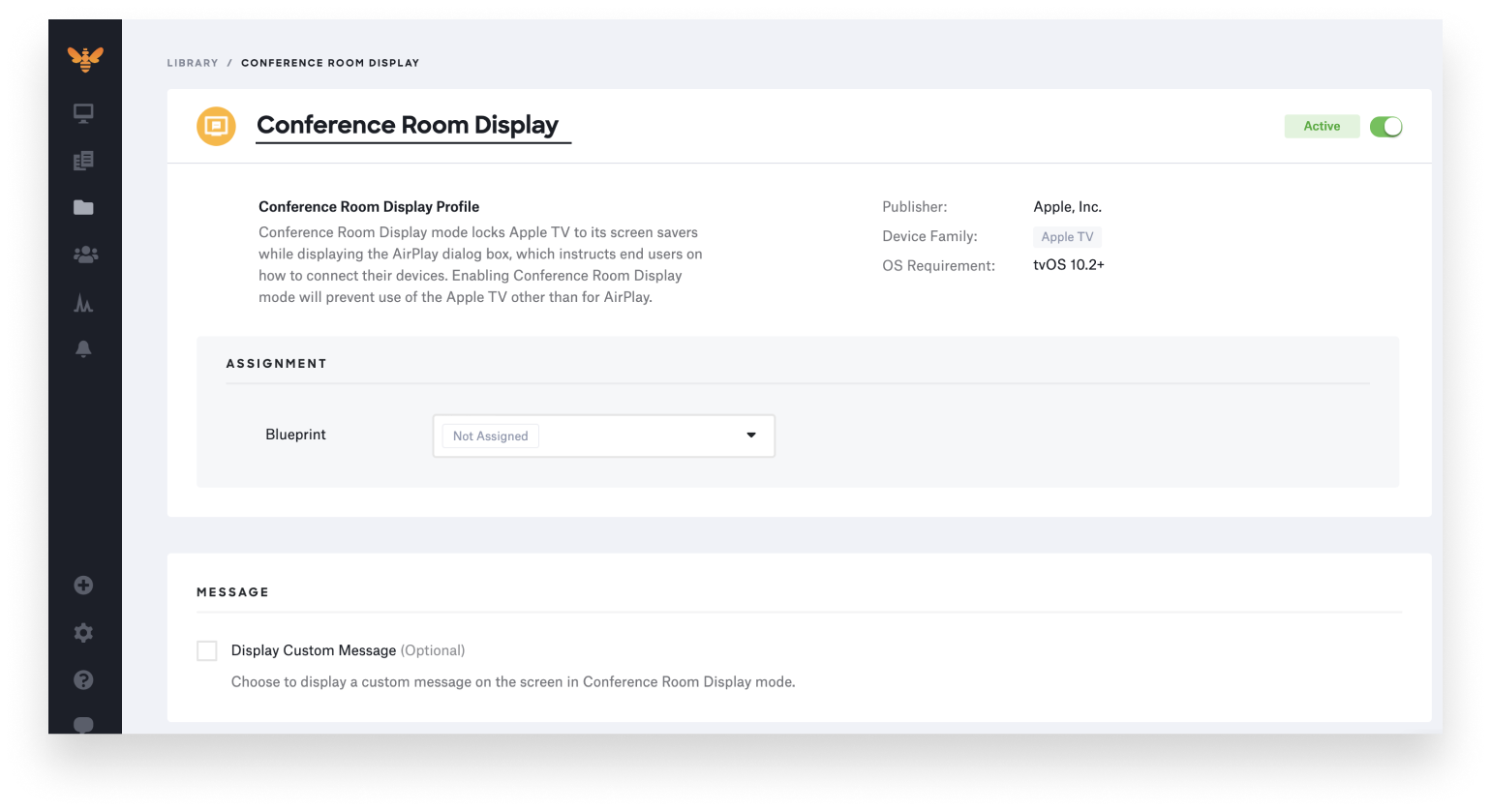 We have also added tvOS support to some of our existing profiles, most notably the Restrictions Profile. For more information on how the Restrictions Profile works and how to use it, read our post introducing 120+ new Apple device restrictions.
Here are some examples of restrictions for tvOS:
Manage incoming AirPlay requests
Prevent the name of the device from being changed
Disallow explicit content
Disable password requests from nearby devices
Manage remote pairing
Block or allow bundle IDs
Disallow changing the date and time
App Store Apps & Books (formerly VPP) now on tvOS
Kandji admins can also leverage our integration with Apple Business Manager to assign Apps and Books to your Apple TV. If Apple Business Manager is connected to your Kandji account, App Store Apps will automatically sync into the Library section within Kandji.
Reinvented "Add Library Item" Workflow
The Library section in Kandji is where admins go to create profiles (custom profiles or pre-existing profiles), configure Device Enrollment settings, set up Custom Printers, add Custom Apps, write Custom Scripts, and more.
Our Library is only going to keep growing, so we have expanded this page to include multiple sections and a clear UI that describes each item and its purpose.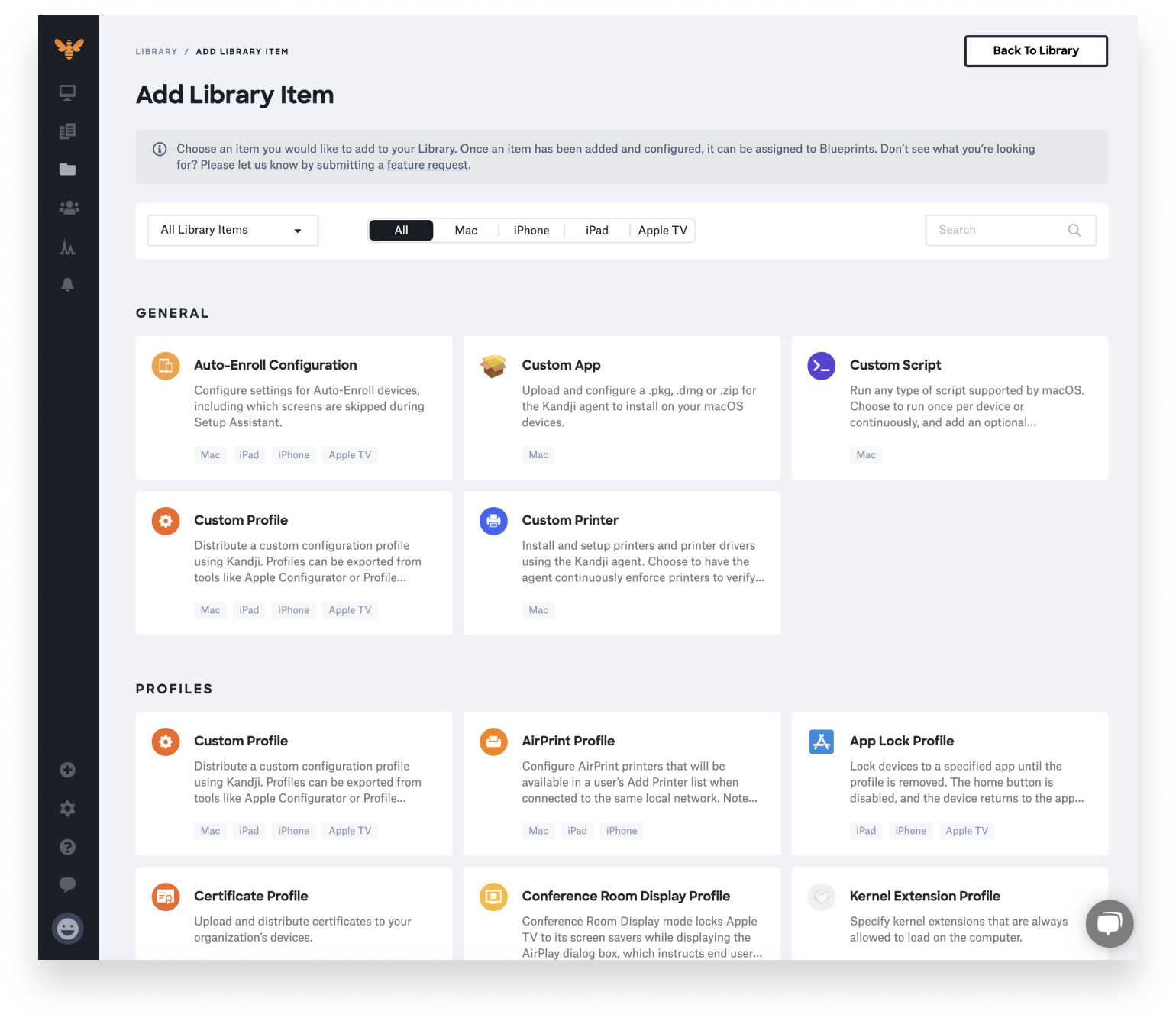 Hint: We also have several new profiles coming soon, such as AirPlay Security, SCEP, and Login Window. Stay tuned for updates to existing profiles as well, such as our Wi-Fi Profile.
Streamlined Assignment
To further improve the experience of managing Library Items, today, Kandji admins also have a more immersive assignment workflow.
When creating a new Library Item or editing an existing Library Item, you have the ability to quickly assign it to multiple Kandji Blueprints with just a click, from directly within the profile.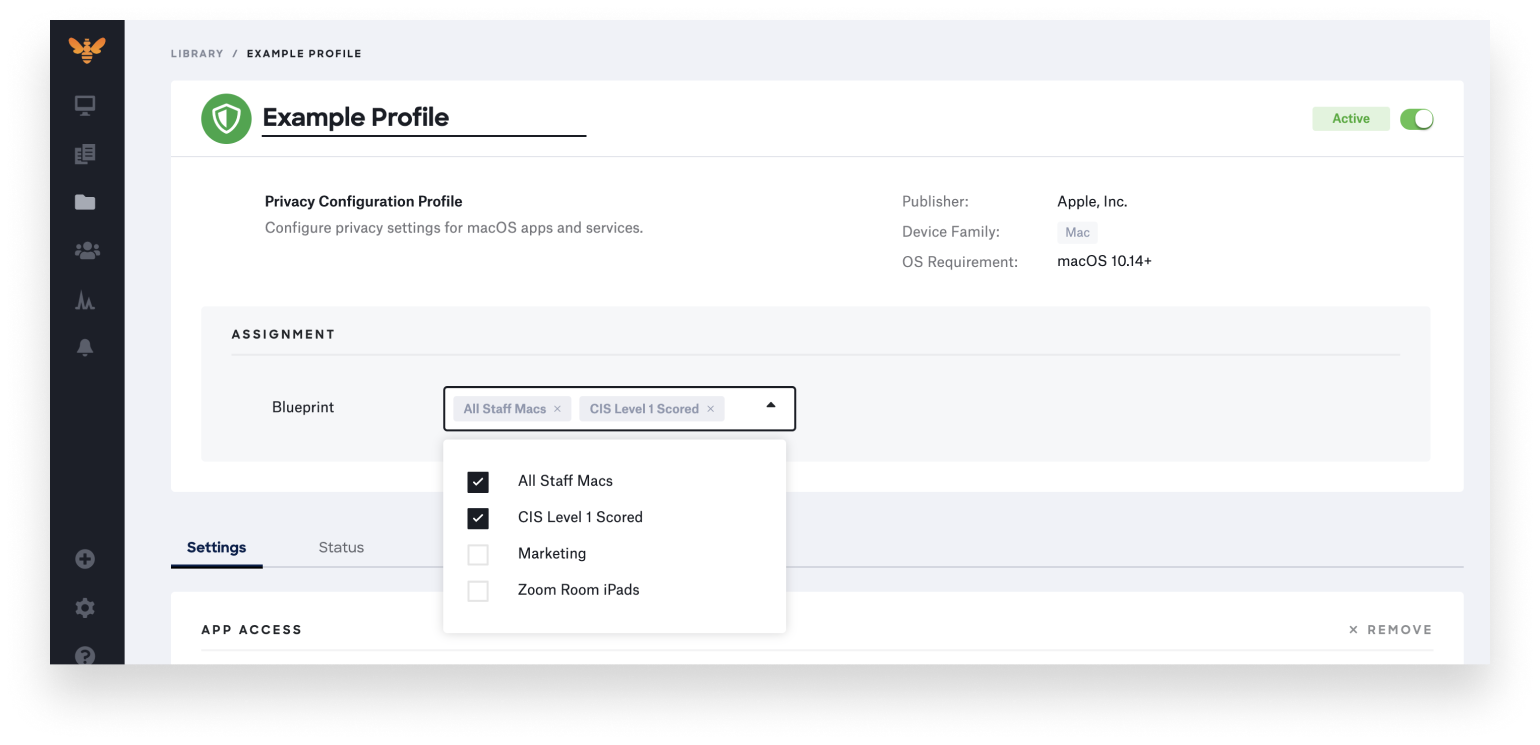 Automated Assignment Conflict Error Handling
At Kandji, we give IT Managers maximum flexibility by allowing them to create multiple profiles in order to customize settings across various groups. A great example of this is the Restrictions Profile (which includes more than 120 controls). It's important to be able to create multiple Restrictions profiles based on your needs; for example, maybe your sales team needs additional Media restrictions, or perhaps your executive team needs Cellular settings adjusted in a unique way.
However, some profiles do not function well if multiple profiles are assigned to the same device. A great example of this is the Password Policy Profile. If a Kandji admin assigns multiple Password Policy Profiles to a device, the policies can conflict with one another or one may take precedence over another.
In Kandji, we are excited to release automated conflict error handling. As of today, when a profile is assigned to a Blueprint where a potential conflict exists, the system will alert you before the profile can be assigned.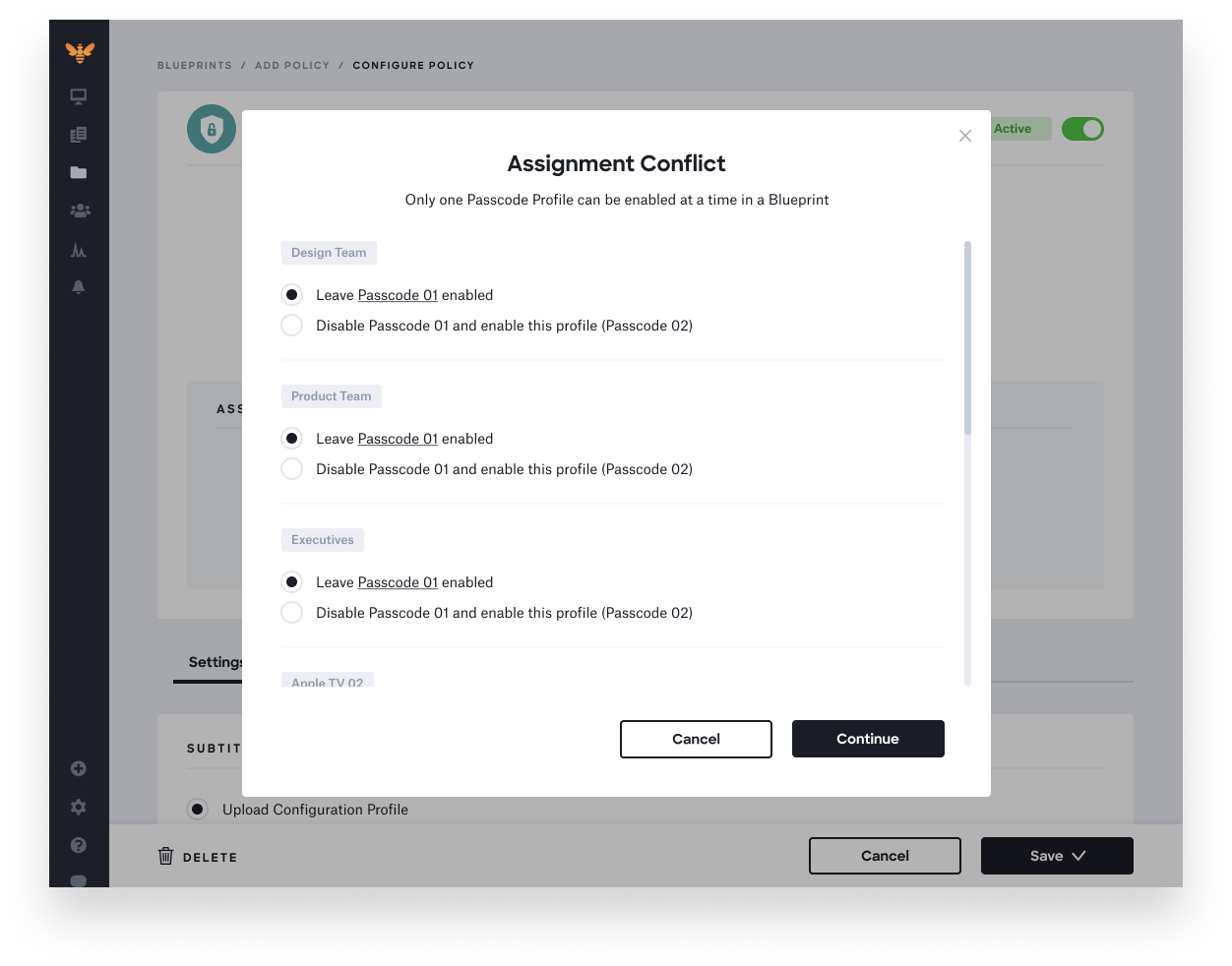 However, keep in mind that every profile should be tested extensively in your environment to ensure that no additional conflicts emerge with other software or controls applied to a given device.
With innovation and iteration at the core of everything we do, we're constantly building solutions to give you more of what you need and improve upon features you already love. With Kandji, you can be confident that your Apple fleet is in safe and secure hands from deployment to retirement.