Manage iPad and iPhone Wallpaper with New Kandji Library Item

Alexandre Morin
Staff Product Engineer at Kandji
4 min read
Since their launches in 2007 and 2010 (respectively), iPhone and iPad have been adopted for an ever-expanding variety of business uses. While they've both been used for general-purpose communications and productivity, they've also proven useful for more specialized applications.
Marketing firms configure iPad devices as registration kiosks at live events. Retail chains use them to help customers and associates locate products and get information in stores. Financial institutions deploy them as point-of-sale terminals to facilitate payments at client retailers.
At the same time, iPhone devices have been used for VoIP communications in healthcare settings and as inventory scanners in warehouses, and your favorite package delivery driver may have one as a scanner.
For these and other public-facing applications, configuring the wallpaper that appears on the iPhone or iPad screen is critical to company branding: it's what users see first. Branded wallpapers are also common in businesses—particularly in the hospitality, transportation, manufacturing, and medical sectors—where shared devices are common.
Managing wallpapers has historically been tricky for IT. Existing solutions don't always make it easy to obtain the best results on target devices. They might allow admins to upload a given graphic to be used as wallpaper. But they don't necessarily help deliver and install those images in the correct sizes or aspect ratios. The resulting images are often pixelated or distorted—which will negatively affect the brand.
That's the problem Kandji's new Wallpaper Library Item is here to solve. From that Library Item, you can set the wallpaper that will appear on the device's lock screen, the home screen, or both. The workflow, which simplifies what has otherwise been an onerous, error-prone manual process, is as follows:
First, you select an image file you want to use as the wallpaper, either by dragging and dropping it into an image well in the Kandji web app or by clicking Select File and choosing one through your browser's interface.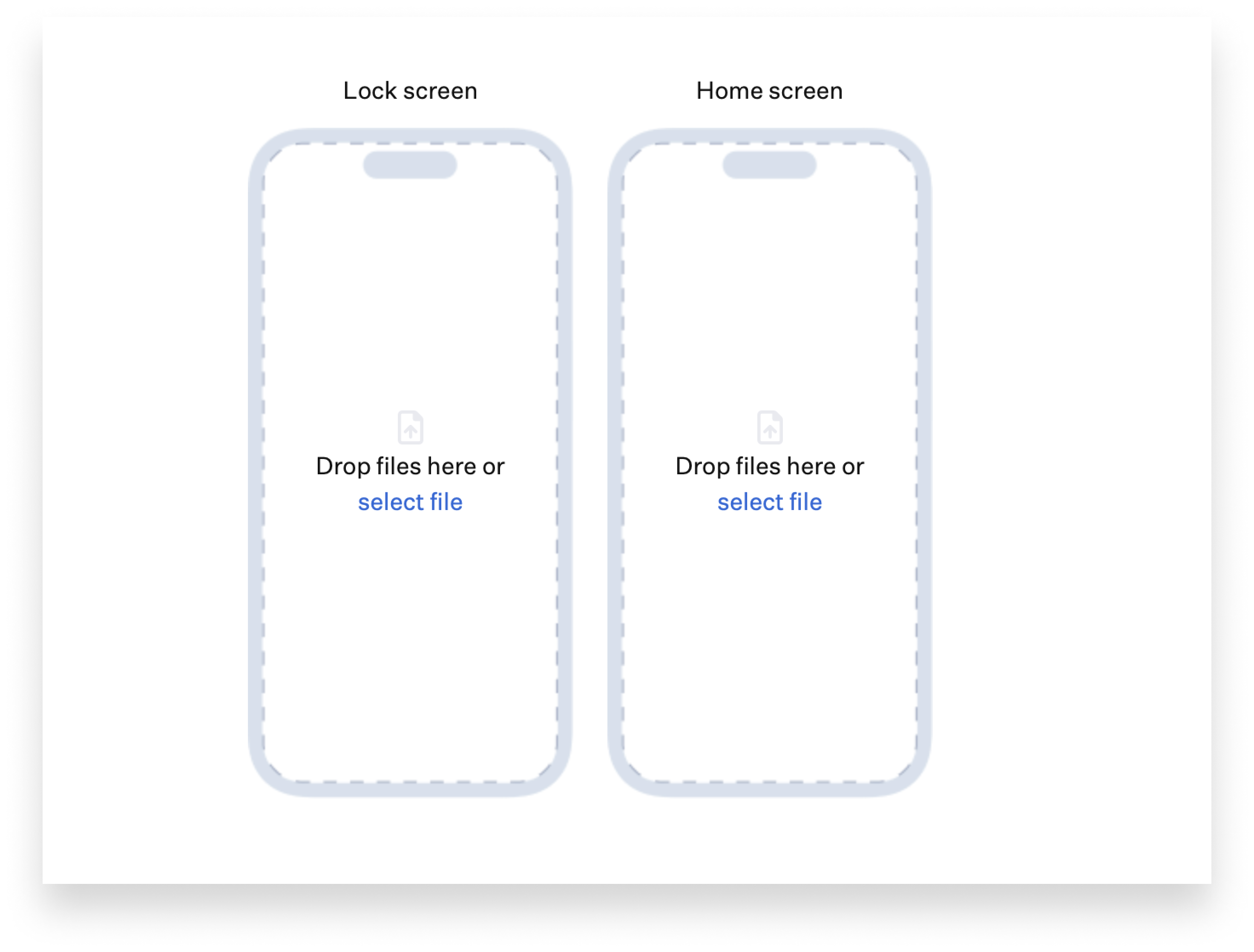 The Library Item includes recommendations on the best image sizes, aspect ratios, file types, and file sizes. Different models within a given device family may have slightly different screen sizes, but their aspect ratios are relatively close to one another, so one image can work on many. The device itself will center the image automatically; it may cut off the edges as needed (to account for screen orientation on iPad, for example).
Once you've selected your image, the Kandji web app provides a preview of what it will look like on your selected device type. We overlay a sample set of lock-screen items, such as the clock, as well as home screen icons on that preview, so you can get a sense of what it will really look like.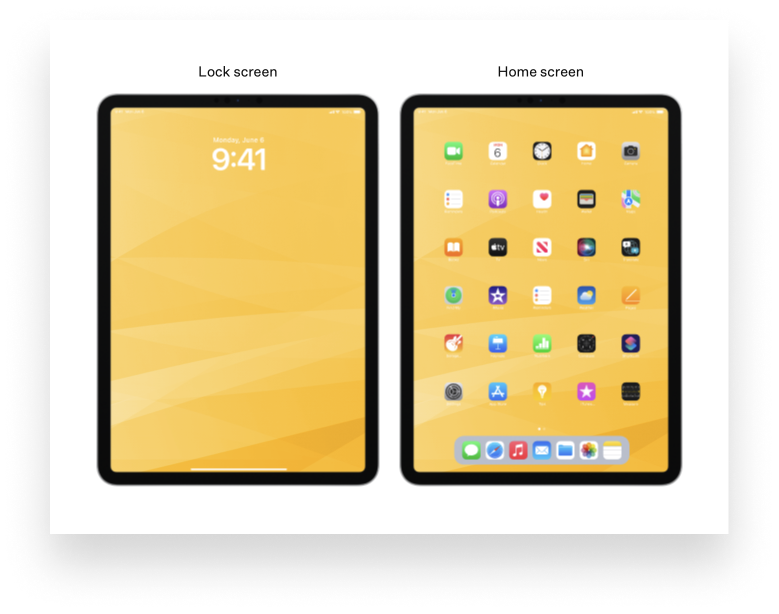 For iPad, you have the option of seeing the result in portrait or landscape. If you notice an issue—say, your image does not quite fit, or the date and time on the lock screen overlap with your logo—you will know immediately before deploying it to an actual device. Without having to have a test device on-hand, you can immediately select a different image or ask your graphics people to adjust the image they provided you.
If you want to prescribe one image for the home screen and a different one from the lock screen, you can. You can also configure both iPhone and iPad devices to use the same image(s) from a single Library Item. Finally, Kandji already has a restriction available that bars users from modifying their wallpaper; we enable that restriction by default when you deploy this Library Item.
For more details, see our support article.
About Kandji
Kandji is the Apple device management and security platform that empowers secure and productive global work. With Kandji, Apple devices transform themselves into enterprise-ready endpoints with all the right apps, settings, and security systems in place. Through advanced automation and thoughtful experiences, we're bringing much-needed harmony to the way IT, InfoSec, and Apple device users work today and tomorrow.
See Kandji in Action
Experience Apple device management and security that actually gives you back your time.
See Kandji in Action
Experience Apple device management and security that actually gives you back your time.