Lost Mode: Track Missing Devices, Protect User Privacy

Alexandre Morin
Staff Product Engineer at Kandji
7 min read
Organizations that manage iPhone and iPad fleets need a scalable, centrally-managed way to track lost devices, but they don't want to compromise their users' privacy. Kandji's new Lost Mode gives them a way to accomplish both goals.
At first glance, you might think you could solve the problem by letting users sign in to iCloud with their personal Apple IDs and then having them turn on FindMy. Those end-users could then find their own misplaced devices: Locating their devices on a map, triggering the Lost Mode sound, and—ideally—resolving the problem without IT's help.
But that solution has some problems: First, users would need to have Apple IDs and stay signed in to them. Your policies may not allow users to enable FindMy and other iCloud services on company-owned devices. More importantly, using FindMy may trigger Activation Lock, which can prevent you from resetting devices if they aren't properly managed with MDM. (Activation Lock can be managed with a solution like Kandji.)
So what if you want the functionality of FindMy for your corporate fleet, without the potential friction points? That's why Apple introduced Managed Lost Mode. Unlocked by device supervision (the enhanced MDM management mode), Managed Lost Mode enables you to lock and locate lost company iPhone or iPad devices and so help you recover them. (Managed Lost Mode is not available for macOS.)
Lost Mode in Kandji leverages the MDM commands that Apple has enabled, plus our own design and automation expertise, to create a great experience for admins that protects devices while still respecting user privacy. It is entirely managed by MDM; there's no need for Apple IDs or iCloud services, or for users to enable anything on their devices. Some other solutions rely on users allowing access to Location Services, which can be a privacy risk and can make those solutions unreliable. Kandji took another route.
Introducing Kandji Lost Mode
If you look at a device's details page in Kandji, you will now notice a new Enable Lost Mode action available in the device Action menu.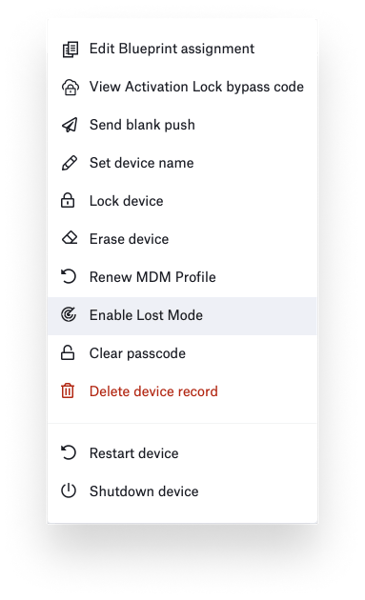 When you enable Lost Mode—perhaps after a user asks for help locating a misplaced device—a new Lost Mode tab will appear in that device's details.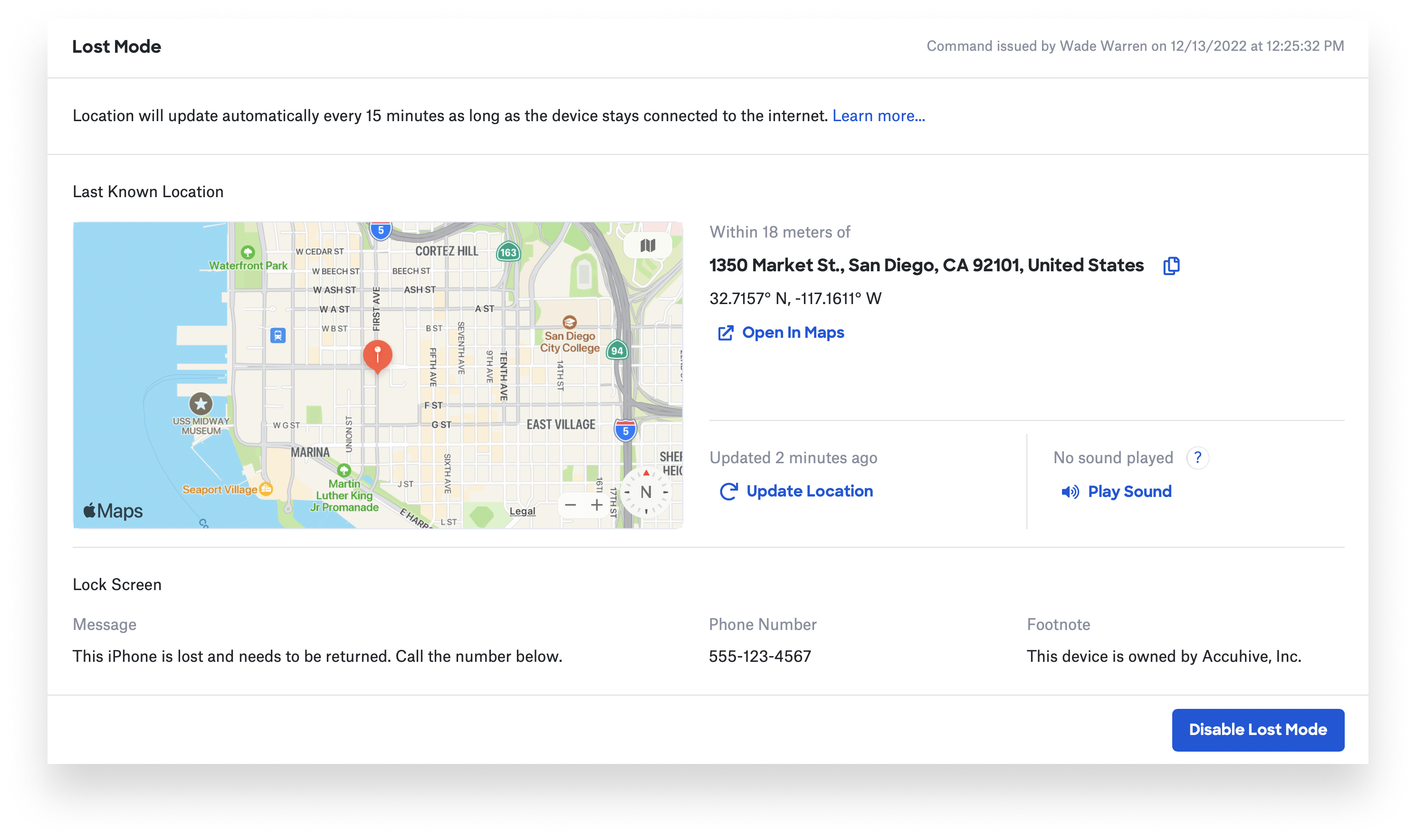 At this point, the device is securely locked and not usable. It will also display contact information and a message of your choice. (You can configure both in the Kandji web app when enabling Lost Mode.)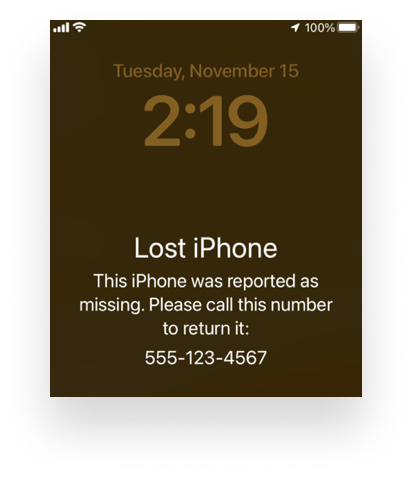 The Lost Mode tab in Kandji displays a map (which uses Apple MapKit); a shareable link; the coordinates provided by the device; and the street address (obtained from a MapKit reverse-lookup of those coordinates). Kandji requests device location information as soon as Lost Mode is enabled, and then again every 15 minutes. It alerts you once when initial location data is received and again only if the location changes significantly (meaning it moves by more than 50 meters).
If that information is not enough to help your user locate the device, you have the option of turning on the Lost Mode sound. This sound should be familiar to anyone who has used FindMy before; as with FindMy, the sound can be silenced by pressing any of the device's side buttons. It will play for two minutes, even if the device is in silent mode.
Once the user confirms they have found their device, or you decide to terminate the session, you can disable Lost Mode by selecting Disable Lost Mode on the Lost Mode tab or in the device Action menu.
If you suspect the device has been stolen, Kandji supports Activation Lock management; by preventing unauthorized use, this removes the value of stolen devices to a third party. Thanks to the details we make visible, you can easily share the address, precise coordinates, or Apple Maps link with your security team or law enforcement.
To make Lost Mode especially robust, we built it to be enforced even if a user has reset or erased the device. When it re-enrolls (assuming it's still set up to enroll with Kandji via Automated Device Enrollment), it will be automatically placed back in Lost Mode.
The Kandji API has been updated with six new endpoints to allow you to enable or disable Lost Mode, play the Lost Mode sound, query for the last known location, and request an updated location from the device.
Protecting User Privacy
Apple designed Lost Mode so the user is made aware when a device's location is gathered by MDM. A unique notification appears on the device's lock screen after the Lost Mode session has ended.
We were mindful of the privacy guardrails that Apple built into Lost Mode and made some intentional design choices to bolster them.
First, we display only the last location we received from the device, even though we request updated location data from the device every 15 minutes. This way you can let a user know where their device is without tracking their every move. Alerts in Kandji about location updates do not contain location information.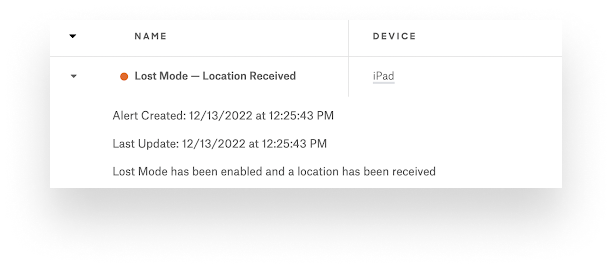 Second, we know that organizations may be concerned about incurring liability by storing user location data. That's why, when a Lost Mode session is terminated, all location information is removed from Kandji. This means you can confidently tell users that you do not have ongoing access to their location information. When you do, it's ephemeral, lasting only for the duration of the Lost Mode session that you initiated at their request.
To learn more about Lost Mode and how it works, check out our video:
And for more details on enabling and configuring it, see our support article.
See Kandji in Action
Experience Apple device management and security that actually gives you back your time.
See Kandji in Action
Experience Apple device management and security that actually gives you back your time.