Okta Report: Kandji Is the Fastest Growing Business App
Kandji Team
Okta's annual Businesses at Work report provides an in-depth look into the applications that workforces around the world are using to stay productive. More than 17,000 Okta customers were surveyed for this year's study. And in that report, Kandji topped the charts as the #1 fastest growing app, across all categories, with 172% YoY growth in customers.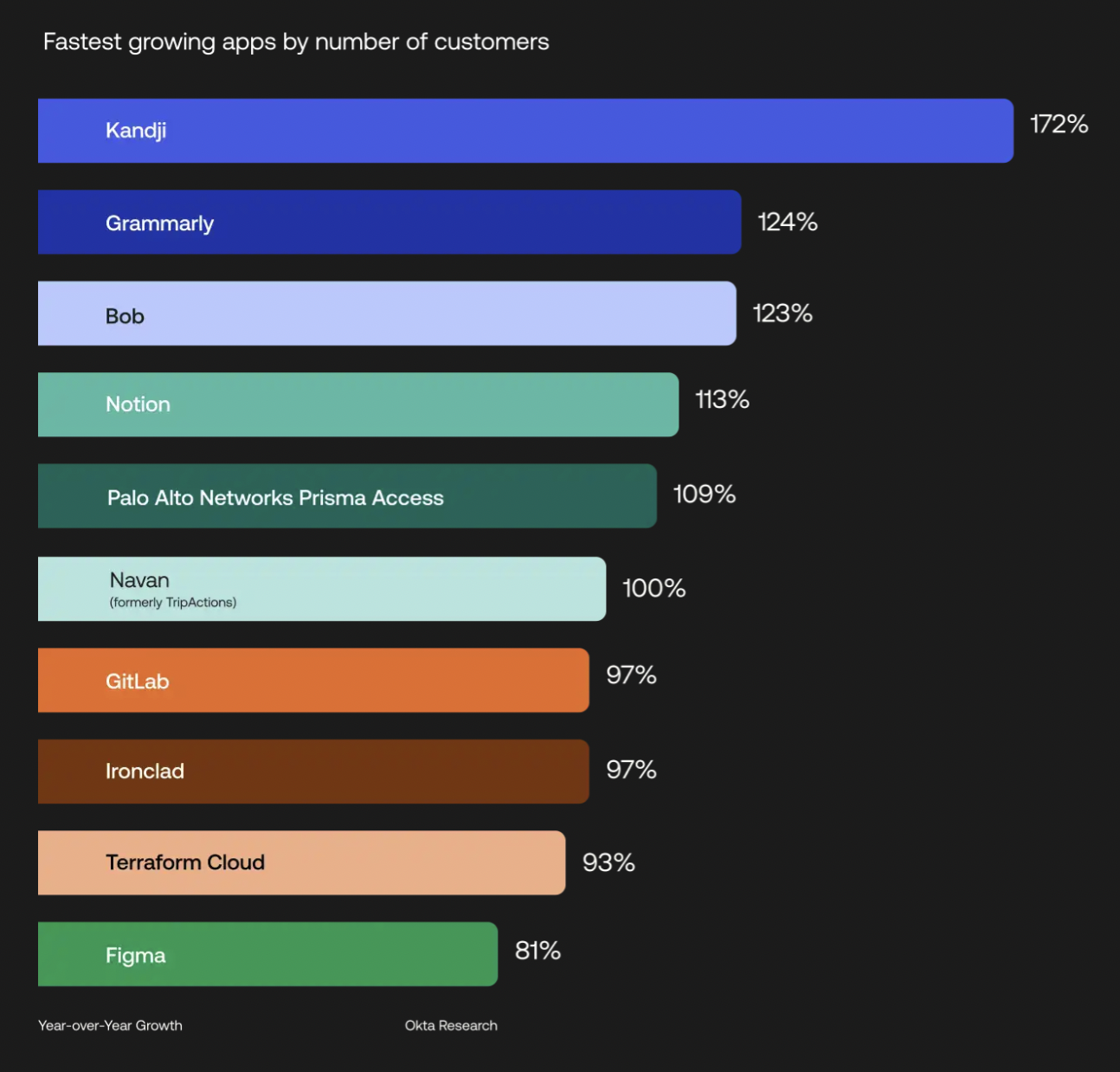 Image source: Okta.com
For more details on that—and on all the other app and technology trends that are helping today's workforces stay productive—check out Okta CEO Todd McKinnon's blog post.
"Kandji's rapid ascent suggests that automation is in high demand as IT teams do more with less. And with remote work here to stay, tools like Kandji enable organizations to manage their devices safely beyond the confines of the office."

—Okta CEO Todd McKinnon
Kandji and Okta: Partnership + Integration
Kandji, which is backed by Okta Ventures, was also named the winner of Okta's Emerging Technology Partner of the Year Award in 2022. Okta and Kandji work together to unlock productivity and security at the intersection of Apple devices and their users. Kandji has built several integrations with Okta into its device management platform:
Passport: Gives users a login experience that feels native to Mac while leveraging their Okta credentials for security. With Passport, users need to remember just one password and always log in with their most up-to-date credentials.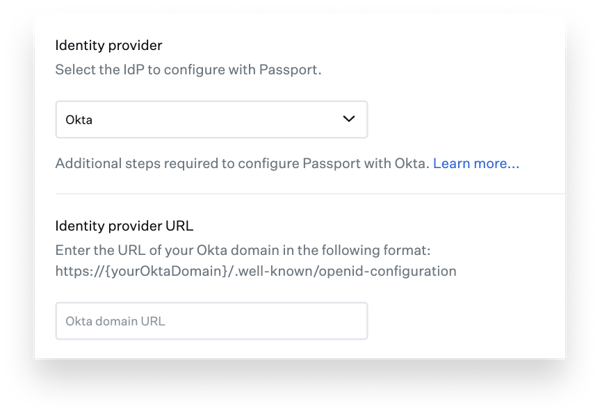 Enrollment customization: IT teams can build a modern enrollment workflow for Apple device users, requiring employees to sign in with their Okta credentials when setting up a new Mac. This adds an additional layer of security to device deployment, while also allowing organizations to customize branding and consent texts.
Kandji Connector for Okta Workflows: Kandji integrates with Okta Workflows for a no-code solution that can automate critical components of the user lifecycle—especially those that are prone to friction or manual error. Admins can add Kandji "cards" to their Okta workflows so that actions or changes in Okta trigger Kandji actions on the device.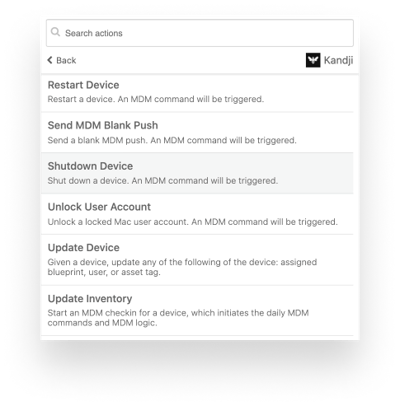 User attributes in assignment rules: Apply app or security controls to specific subsets of users within a Blueprint, based on user and group attributes stored in Okta. Allows you to build conditional logic to fine-tune the ways Kandji Library Items are deployed to which devices.
And there's more coming soon—stay tuned!
About Kandji
Kandji's long-standing partnership with Okta has supported the successful launches of Kandji Passport, the Kandji Connector for Okta Workflows, and more—with more to come soon! That partnership, and the technologies it has enabled, are built with one goal in mind: To help you automate the enrollment, configuration, and security of the Apple devices you manage.
See Kandji in Action
Experience Apple device management and security that actually gives you back your time.
See Kandji in Action
Experience Apple device management and security that actually gives you back your time.