This news was originally published on TechCrunch. This article is reposted from a PRWeb press release.
The Kandji team is excited to publicly announce commercial availability of our Apple MDM solution and $3.4 million in seed funding after more than two (2) years in stealth mode, which consisted of heavy product development and investment in our growing customer base.
Our seed round funding was led by First Round Capital with Josh Kopelman as lead partner. Maynard Webb's investment firm, Webb Investment Network, also participated, along with John Glynn and others. The round closed in March 2019 and was announced publicly today to coincide with commercial availability of the product. The funds will be used to scale the go-to-market capabilities and grow our team across all departments.
"Modern businesses choose Apple because it is associated with a modern mindset, and more and more businesses are choosing to invest wisely in their devices and a device management solution that keeps them operating security and efficiently from day one," said Josh Kopelman, partner at First Round Capital. "The Kandji team has lived and breathed Apple device management for almost a decade, and we are excited to work with them to bring an unprecedented solution to a space that is ripe for innovation."
In addition to the funding, the company also announced commercial availability of its Apple MDM solution after more than two (2) years in stealth mode.
Prior to creating Kandji, the founding team built and ran an Apple-certified IT firm that helped modern businesses deploy and manage thousands of Apple devices. Before that, they were Apple employees.
They discovered there was no straightforward solution to help IT teams manage devices and meet basic security standards without requiring intense customization, including hours of skilled labor managing custom scripts. Existing solutions were either painstakingly complex and required enterprise-level resources, or overly simplistic and did not meet the needs of growing businesses.
"We worked with some of the biggest names in tech to push the limits of Apple in the workplace," said Adam Pettit, CEO and co-founder of Kandji. "We spent almost a decade deploying every leading Apple MDM on the market and saw a dire need for a device management platform that could accommodate growing businesses and increasing regulatory demands. We knew there had to be a better way, so we built Kandji: the Apple MDM we wish we had."
As a result, many of Kandji's functions are unique and new to the Apple MDM space, such as our pre-built library of more than 150 one-click device controls and the industry's first macOS compliance agent that automatically enforces and remediates issues, even when devices are offline.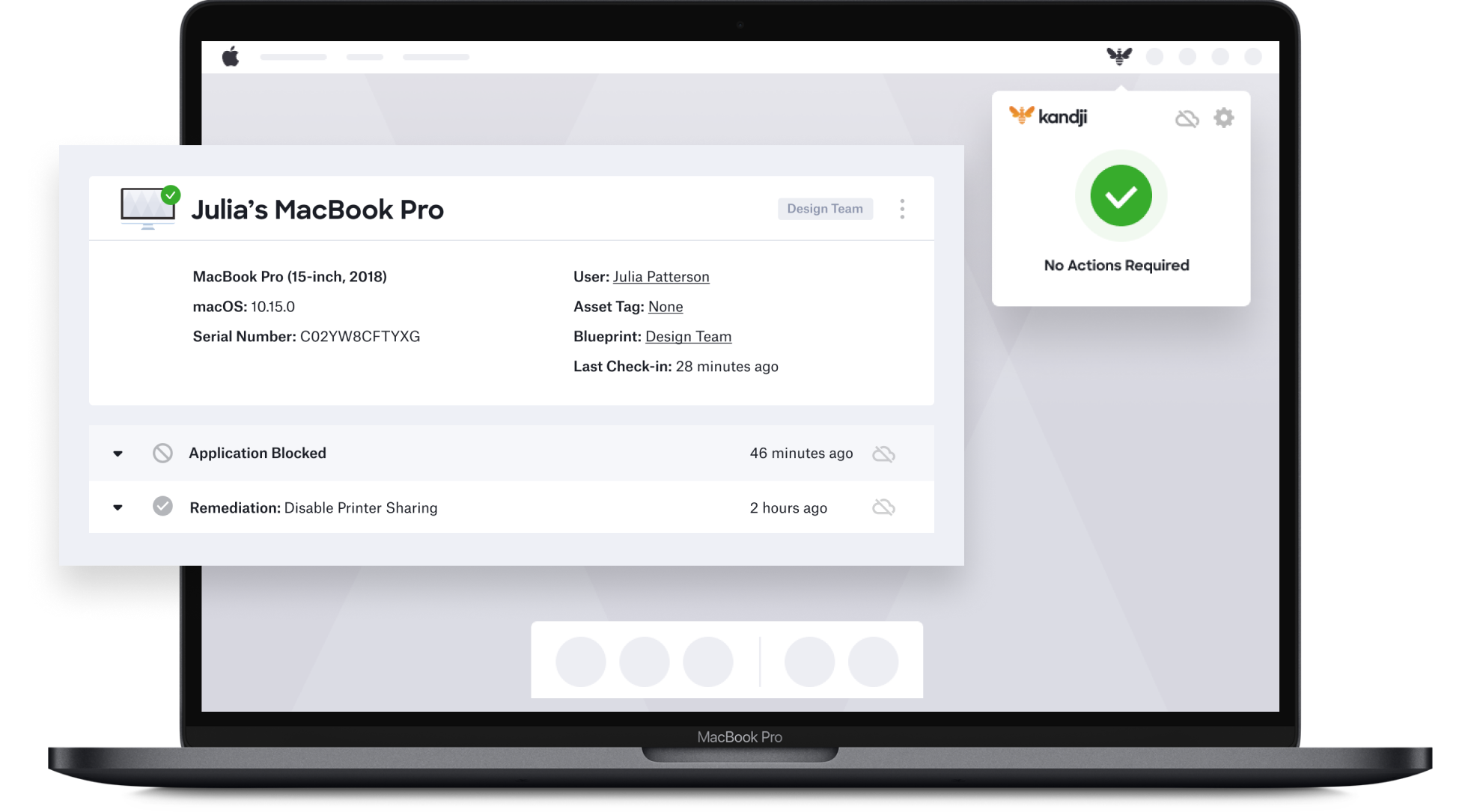 With roots in the Apple ecosystem, the Kandji was intentionally designed to be a natural extension of Apple; it is built on Apple's MDM protocol and is fully integrated with Apple Business Manager. Pettit adds, "To us, Apple symbolizes the ultimate balance between power and simplicity. Our goal with Kandji was to reflect that balance, and from what we hear from customers, we are achieving that goal."
"Kandji simplified the administration and configuration of devices thanks to the simplified UI and preconfigured options," said Shaiwal Priyadarshi, CTO of Health IQ, a Kandji customer. "After having tried multiple MDM solutions, Kandji is a refreshing balance between power and ease of use. Health IQ has a highly collaborative culture across a geographically distributed workforce, and Kandji will be instrumental in keeping our Apple devices secure and efficient as we scale."