iPad as Primary Work Device: Why Apple Admins Should Support It

Caleb Basinger
Senior Product Engineer at Kandji
11 min read
For many years, if employees were given a choice in the kind of digital device they'd use for work, it was usually a binary one: Mac or PC. But IT teams now frequently get requests for a third option: iPad.
In some organizations, the knee-jerk response might be a hard no. Even in those that have standardized on Mac desktops and laptops, such requests might still cause concern. Is iPad really up to the demands of the organization's software stack? Is it going to unduly add to the IT burden?
We're here to dispel such concerns. If you have the tools and knowledge to manage a fleet of Macs, you're already well-prepared to add iPads into the mix. And there are some good reasons why you should.
Why iPad Belongs at Work
One big reason iPad is a viable alternative in the workplace is that many jobs don't require a full-fledged computer. Think, for example, about insurance adjusters, construction managers, transportation professionals, and others who spend all of their work time in the field, or those who work in manufacturing and spend their days on a facility floor documenting maintenance requests.
In such environments, the mobility of iPad brings productivity on the go to a new level. Instead of recording everything on paper and then digitizing it later on a Mac, iPad allows you to do it both at once. Such workers may not want to carry around a Mac—even a MacBook Air.
But you may also be fielding iPad requests from people whose jobs traditionally called for a Mac. You know what? If your IT protocols allow it, you should give such requests serious consideration. The latest generations of employees grew up with iPhones and iPads as their primary digital devices. For them, asking for an iPad at work is no different than someone else asking for a Mac. They just want the tool they're most comfortable working with on a daily basis. Unless you have a very good reason not to, why not give it to them?
There are in fact some very good affirmative reasons for adopting iPad in the corporate workplace.
Apps: For every SaaS tool at work, there's likely a corresponding app that's easy to use and operate. Some of these services have dedicated Mac apps, but many have iPad versions too—and those streamlined tablet apps are often easier to use than their full desktop counterparts. If those iPad apps aren't able to finish a particular task, there's always the web version to fall back on.
Take, for example, the Mobile for Jira app for iPad. The tablet version is well done—but it's not a one-for-one replacement for the desktop web interface. For quick check-ins and updates, it'll work fine. But for heavier usage, the web interface in an iPad browser provides a great experience.
Connectivity: iPad comes with cellular options, with 5G coverage on the latest models. That instantly makes iPad a better option for the field than Mac. For employees who frequently travel, having easy access to fast cellular connections allows for productivity everywhere without relying on clunky hotel Wi-Fi. The concept of "offline" almost doesn't exist.
Input: iPad gives users almost any kind of input tool they might want or need. Need to mark up a PDF in the field? An iPad equipped with Apple Pencil is there for you. Need to power through your inbox? Attach a Magic Keyboard, and iPad transforms itself into a desktop-class computer. Video call? You can do it anywhere without any additional hardware.
By comparison, the Mac specializes in one input method: Keyboard and mouse (or trackpad). Sure, you can add other peripherals, but the machine itself is really built around those. iPad is built around its screen, and it's simpler than ever to add whatever other input peripherals you might need, whether it's for mobile content capture, design, or plain old typing.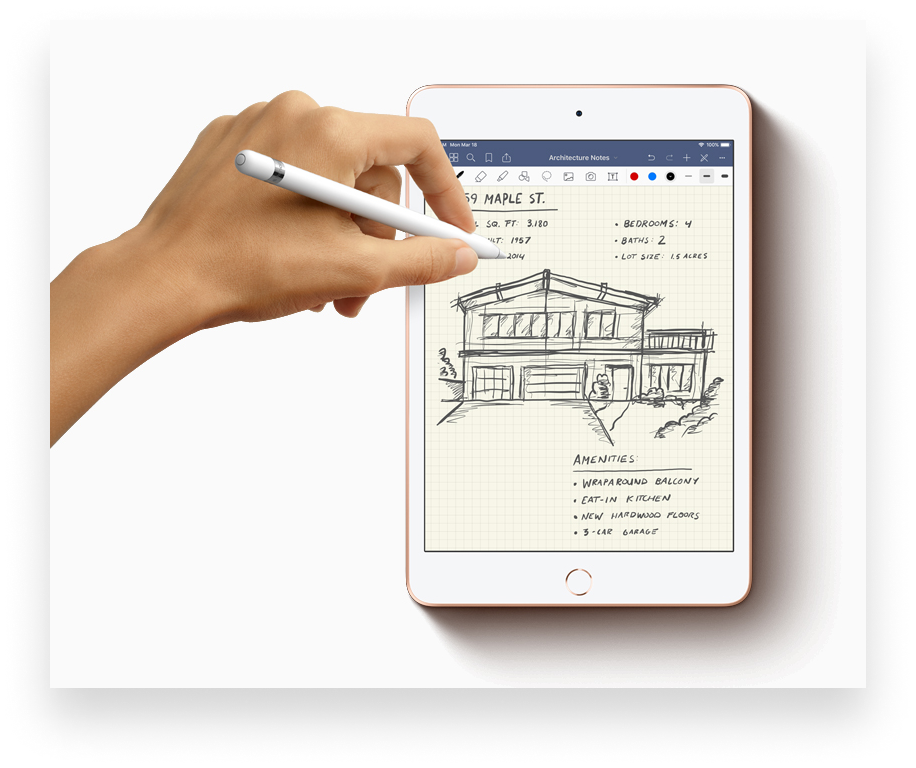 In some cases, that flexibility makes iPad better than the Mac. Not long ago, I needed to quickly respond to a screenshot someone had posted in Slack. I took a screenshot on my Mac but then remembered that iPad's markup tools are better than those on the Mac. So I sent it from Preview on the Mac to my iPad, quickly highlighted what I needed to there, sent it back to the Mac, and posted it. As fast as the Mac might be in so many respects, iPad is actually better for document markup, whether you're using your finger or an Apple Pencil.
Familiarity: Don't discount the benefits of letting employees use iPad because it's what they're familiar with. For people who've spent years getting digital work done—at school or on the job—on a smartphone and an iPad, switching to a desktop computer might actually slow them down.
Managing iPad
Those are all good reasons why employees might prefer iPad to the Mac for work. But what reasons might IT have for incorporating iPad into an organization's Apple fleet? How might you respond to objections from colleagues or leadership?
For one thing, Apple is on board with the idea. When the company released Apple Configurator 1.0 back in 2012, it signaled that iPad and iPhone management was a strategic priority. Schools and businesses using iPadOS in their operations no longer had to rely on mass iTunes syncing or the iPhone Configuration Utility. Over the next decade, Apple often implemented its mobile device management protocols on iPadOS before it migrated them to the Mac. The release of Apple Business Manager (and Apple School Manager) simplified deployments.
If you've been in the business of managing only Macs and PCs for your business, you might not be aware of how easy it is to add iPad to your management system. Many of the same configuration options you have for the Mac already exist for the tablet. Apps from the App Store install the same way. Software Update is just as robust. Configuration profiles have countless overlaps in their functionality.
In most device management solutions, you should have the same level of insight into your fleet of iPad devices as you do into your Mac computers. Some functions and features might vary slightly on the two platforms, but at a high level, there should be little difference.
Deployment: As on the Mac, you can use zero-touch deployment for iPadOS, so devices are immediately supervised and enrolled in your MDM when users first activate them. As long as your MDM solution is properly connected to Apple Business Manager, iPad devices will enroll in your MDM straight away.
That means they're managed from activation. That, in turn, means employees can't wipe their devices to circumvent IT controls. It also makes stolen devices unusable: As soon as someone tries to wipe a stolen iPad, it'll enroll into the company MDM and report its IP address to the server.
With Apple's robust MDM APIs, you'll always have full visibility into which apps are installed and which version of iPadOS is running (with the ability to deploy or delay an update), as well as tight control over on-device policies.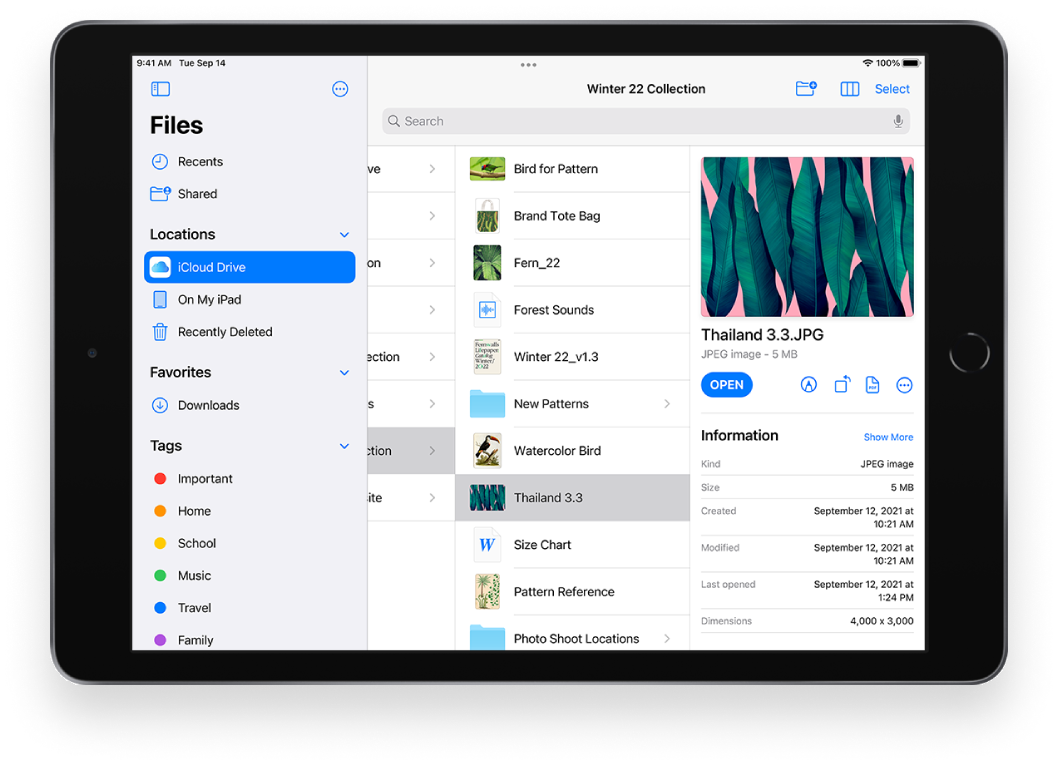 File management: iPad's file-management abilities have evolved dramatically over the years. You can now work with files in a variety of ways. As on the Mac, you can install OneDrive, Google Drive, Dropbox, Box, and other cloud storage options (not to mention iCloud itself). But on the Mac, those cloud services all function slightly differently from one another, and they aren't especially interoperable. In iPad's Files app, they all look and feel the same. That makes it easy to maintain separate file repositories—personal documents in Dropbox, for example, and corporate ones in Box.
You can also manage what users do with those files. New with iPadOS 15, the managed pasteboard controls what users can copy and paste from and to enterprise apps. Users can be prevented from copying content from Apple's apps and other managed apps into unmanaged apps.
Security: In many ways, iPad is easier to secure than the Mac. It's built from the ground up to ensure that IT departments can implement the controls and policies they need without unduly burdening the user. If you think about it, that's the IT ideal: Ensuring compliance and security while staying out of the user's way.
IT Considerations
All that said, bringing iPads into your Apple fleet does require some particular planning and thought. In particular, you need to think about:
Accessories: What's the standard kit—Apple Pencil? Magic Keyboard? USB-C to ethernet? Some departments will want both an Apple Pencil and a Magic Keyboard while others might require just the keyboard. What does your budget allow? The best way to start answering those questions: Talk to your teams.
Connectivity: Will everyone get cellular, or is Wi-Fi alone enough for some? 5G connectivity can be a big productivity boost for employees who are regularly in the field or traveling, but it's an extravagance for employees who are in the office most of the time. As with accessories, consulting with teams to find out when and where they'll need to be online will help.
Apps: What's the base app library? Will you let employees install their own favorites? How much are you relying on SaaS, and do your cloud services have corresponding applications in the App Store? Typically there'll be a default set of applications distributed company-wide, then a narrower list for each department. And if you do allow employees to install their own, keep in mind the distinction between managed apps and unmanaged ones when it comes to controlling corporate data.
File storage: How well will your existing workflows and file solutions transition to iPadOS? Where are you storing shared files? As noted above, cloud storage is in many ways easier to implement and manage on iPad than it is on Mac.
Managed Apple IDs: What's your strategy for Managed Apple IDs to enable iCloud backup to recover from a broken device quickly? You don't want a situation where personal Apple IDs are being used to backup enterprise data. By configuring Managed Apple IDs, you'll have the foundation for a secure iPadOS computing experience, in which the IT department always has control over a user account if a user leaves the company. Apple has built out the tools to sync Managed Apple IDs with

Azure AD

and Google Workspace.
The bottom line is that IT has nothing to fear from requests for iPad as a production device and has much to gain. Evaluate the policies you have now and think about how they apply to iPad. Do you run into roadblocks with security, management, compliance, or productivity on other devices that could be sidestepped by adopting iPad? Do you have graphic designers who could actually get more done with a screen-first interface? Could your sales team improve its productivity with an iPad document-signing solution?
Pull on all those threads and see where they lead you. You might be surprised how good a fit iPad could be for your organization. Will everyone want an iPad? Of course not. But over time, your company could learn when and how iPad can increase productivity—just as companies did when adopting the Mac many years ago.
About Kandji
Kandji can help you manage iPad (and iPhone) devices just as easily as Mac computers. With powerful and time-saving features such as zero-touch deployment, one-click compliance templates, and plenty more, Kandji has everything you need to bring your Apple fleet into the modern workplace.
See Kandji in Action
Experience Apple device management and security that actually gives you back your time.
See Kandji in Action
Experience Apple device management and security that actually gives you back your time.