Introducing Enhancements to Automated Device Enrollment

Nick McDonald
Principal Consulting Engineer at Kandji
5 min read
Kandji is pleased to announce our redesigned Automated Device Enrollment Library Item in the Kandji web app.
Apple created Automated Device Enrollment to make it easier for admins to enroll devices in their MDM solutions and to simplify initial device setup. Kandji has always supported Automated Device Enrollment, but this update to our web app brings an improved interface, simplified account creation, and additional features for Mac, iPhone, iPad, and Apple TV.
The first improvement is immediately apparent when you open the Automated Device Enrollment Library Item: A new user interface shows settings grouped by platform, with all settings visible on a single page.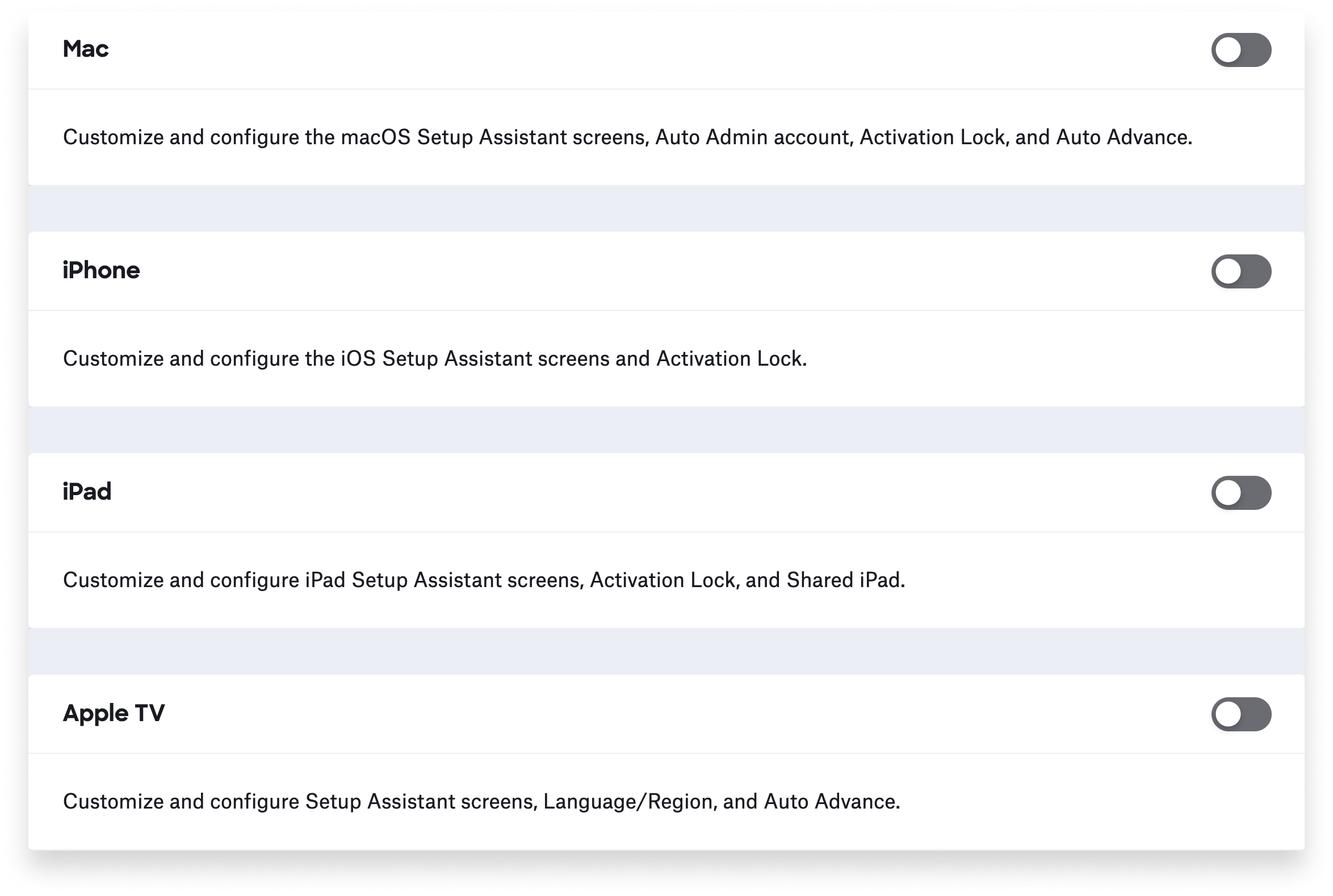 After you click the switch for a given platform, you can customize and configure login and setup options for it. For Mac, those options include selecting which Setup Assistant screens to skip, configuring the primary user account, and more.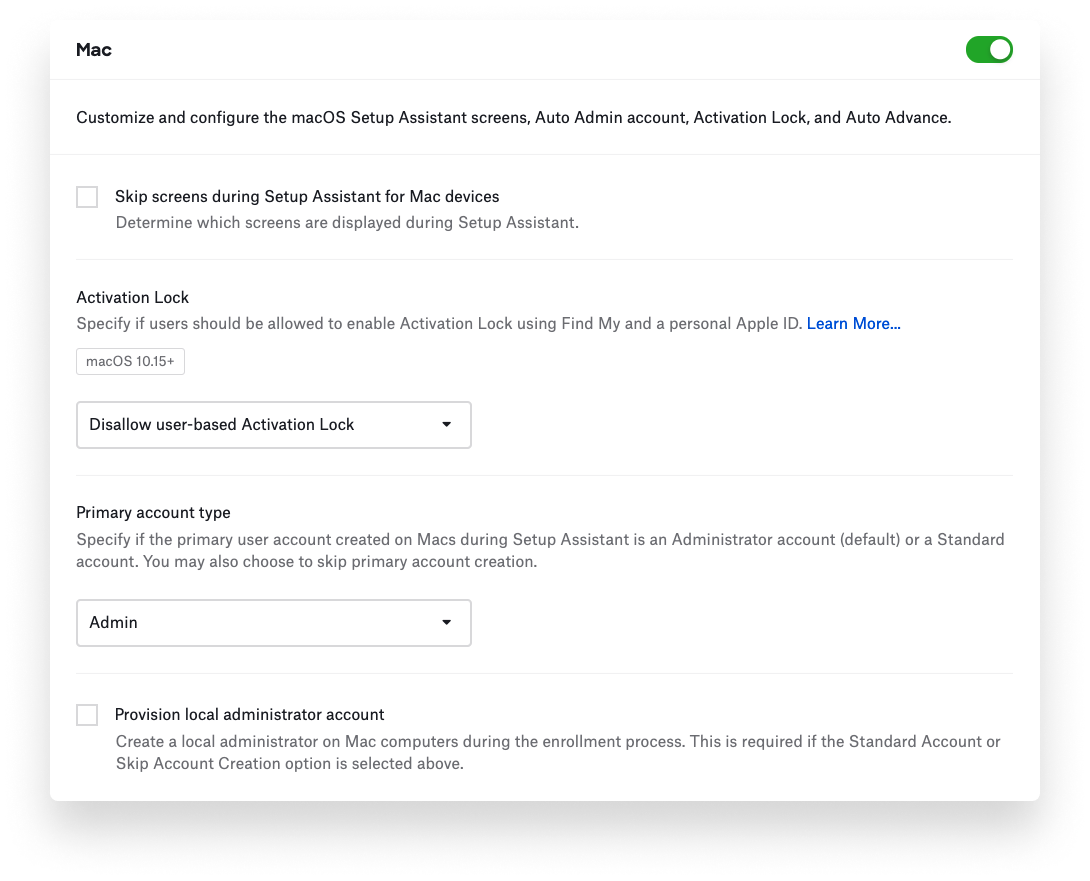 For all platforms, skipping Setup Assistant screens provides a more streamlined setup experience for users. In the new Automated Device Enrollment Library Item, you can now select Skip screens during Setup Assistant for [platform], then Specify which screens to skip during Setup Assistant.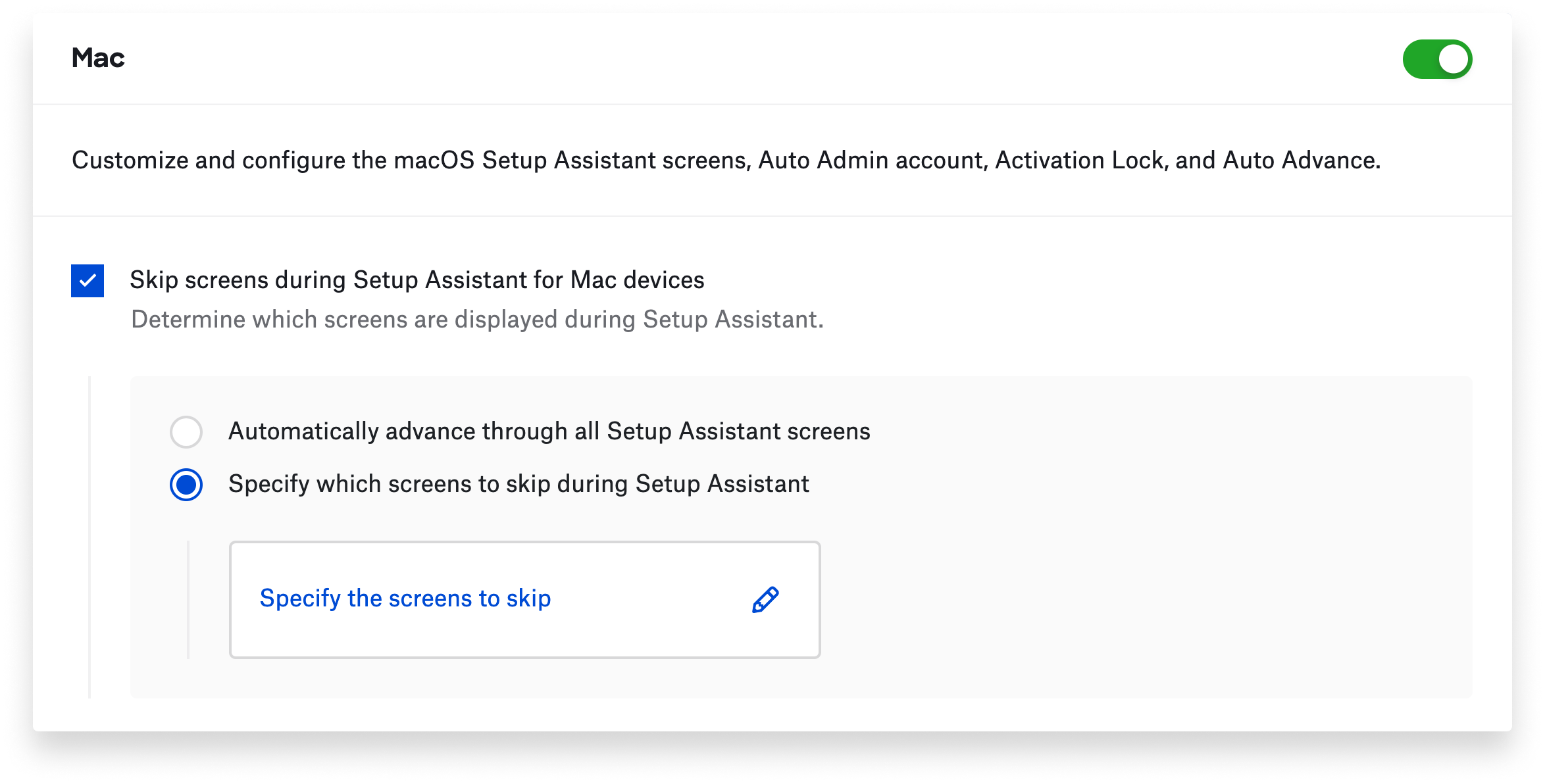 A new dynamic panel then appears where you can search for and select Setup Assistant screens you want to skip. For example, if you wanted to skip all screens except Location Services, you could select the checkbox for Skip all screens for Mac, then enter location in the search field. This would cause the dynamic panel to display only Skip Location Services. You could then deselect that checkbox.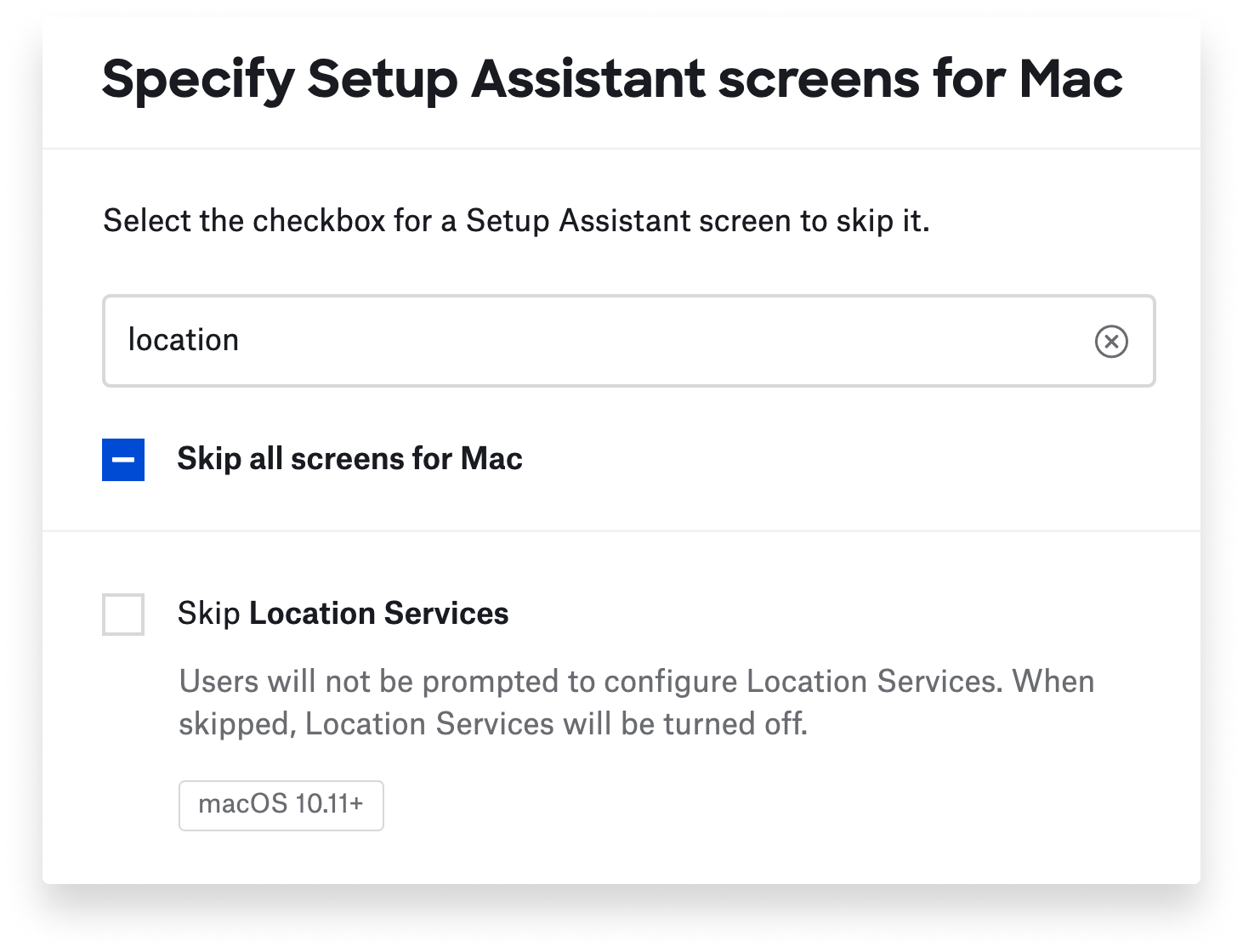 Once you click Save, the dynamic panel disappears, and the Automated Device Enrollment Library Item displays the list of skipped screens.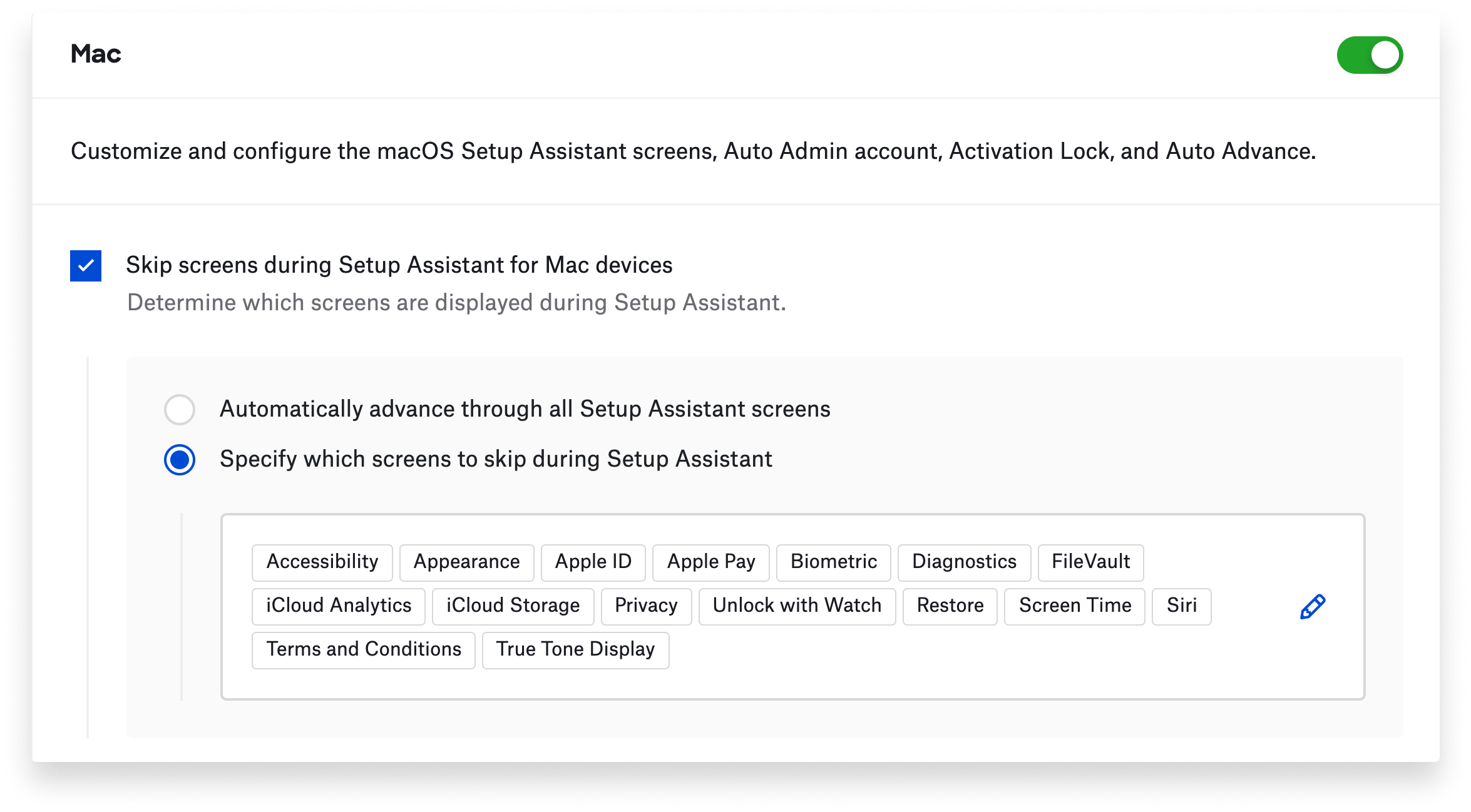 The new Automated Device Enrollment Library Item also offers options for configuring how users authenticate when enrolling their devices into Kandji. When you select the checkbox for Require authentication, users must provide their Single Sign-on credentials.
On Mac, the next step is often to create a local user account. You can now select Prefill initial account creation details to populate the user's Full Name and Account Name fields based on the details of the user assigned to the Mac. You can then select the option Lock pre-filled account creation details so users can't change their username or account name during setup.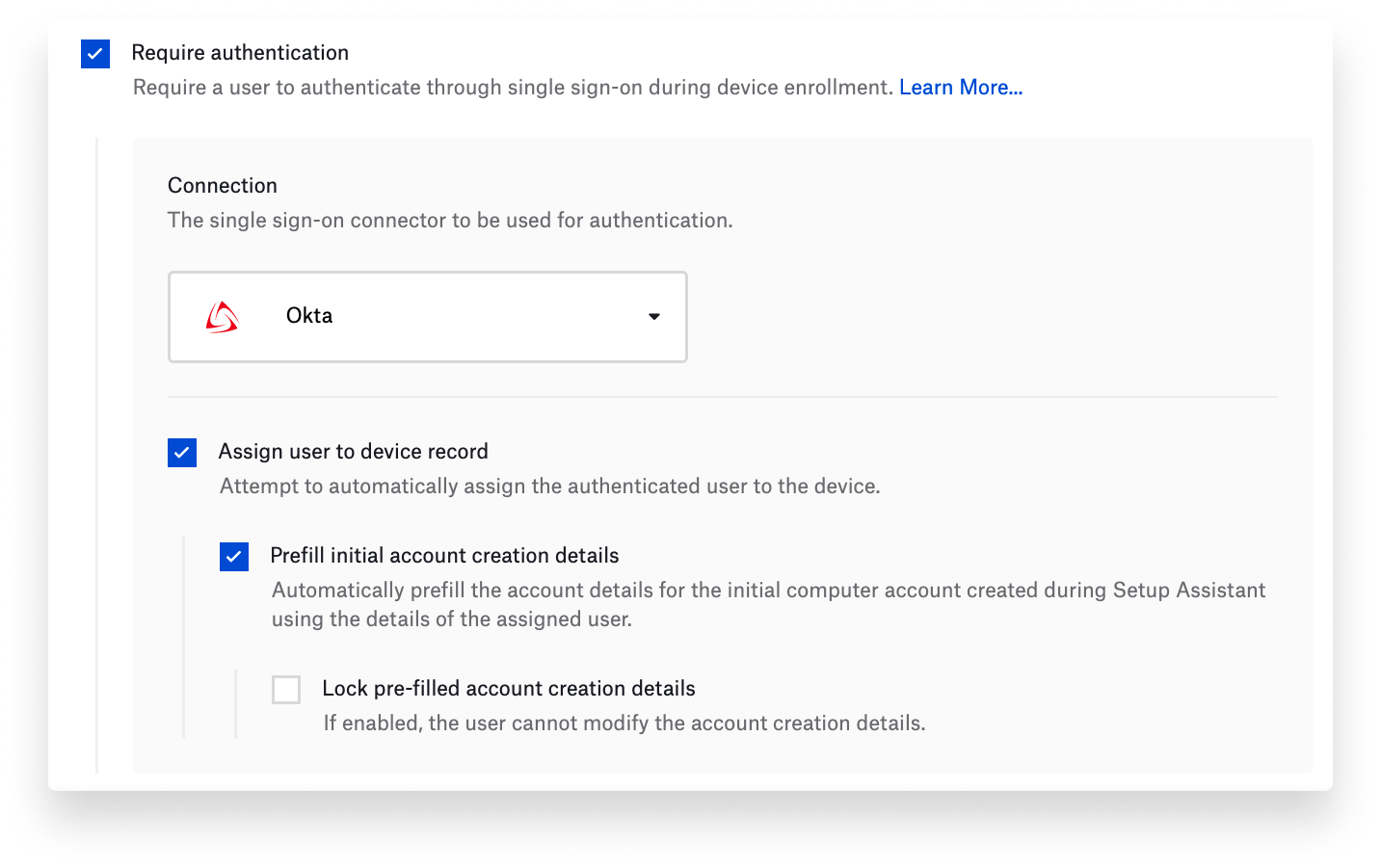 Among other new capabilities in the Kandji web app: You can optionally allow user-based Activation Lock on Mac, iPad, and iPhone, as well as enable device-based Activation Lock on iPhone and iPad. You can also set the guest session timeout, passcode lock grace period, and automatic user logout time for Shared iPad. For Apple TV, you can specify the desired region and language when skipping Setup Assistant screens.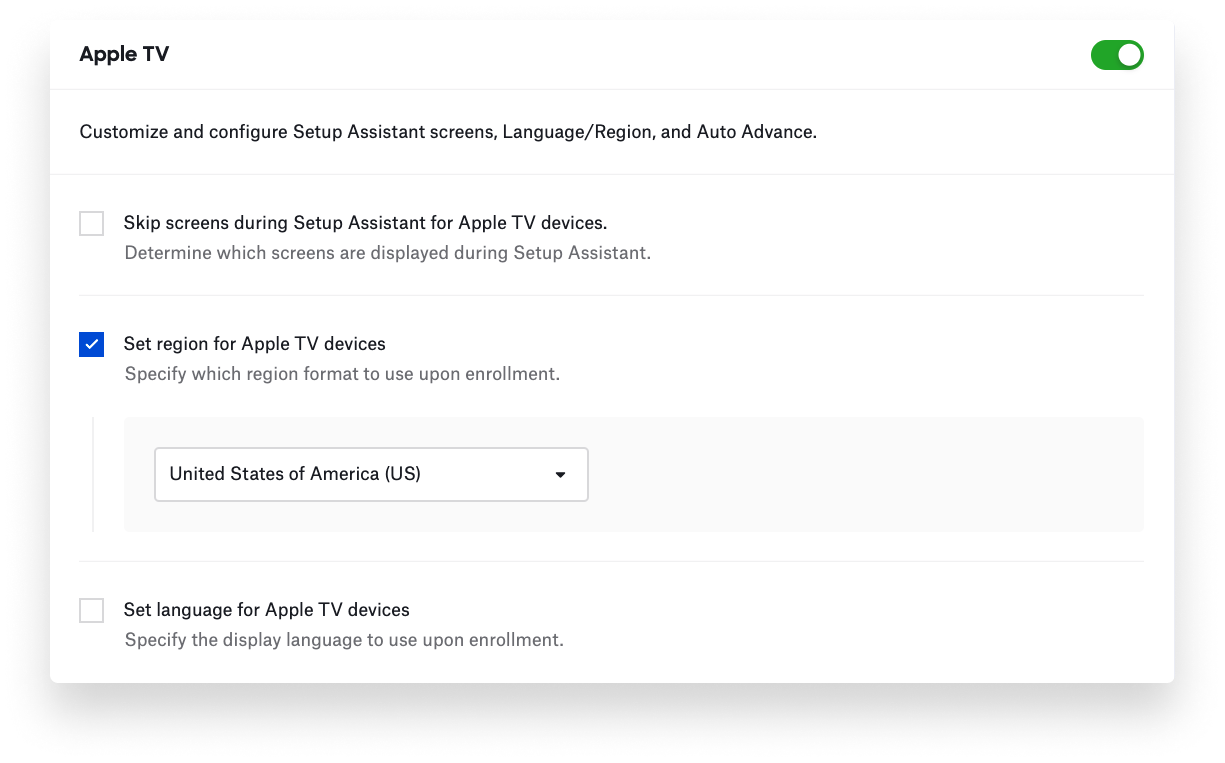 For more details, see the following support articles:
About Kandji
These updates make it easier for administrators to configure Automated Device Enrollment and to give users a great first-time setup experience. The Kandji team is constantly building new functionality into our MDM solution. With powerful features like zero-touch deployment, one-click compliance, and offline remediation, Kandji has everything you need to enroll, configure, and secure your devices.
Start your free trial today
The industry's first MDM with a pre-built library of security controls.
Start Free Trial