Survey: Why Apple Is Booming in the Enterprise
Kandji Team
Apple's remarkable rise in the enterprise continues: In a survey of IT leaders in organizations with 1,000 or more employees, 76 percent said that the use of Apple devices in their companies increased over the past year. The top reason they cited: Apple devices improve productivity, particularly for hybrid and remote workforces.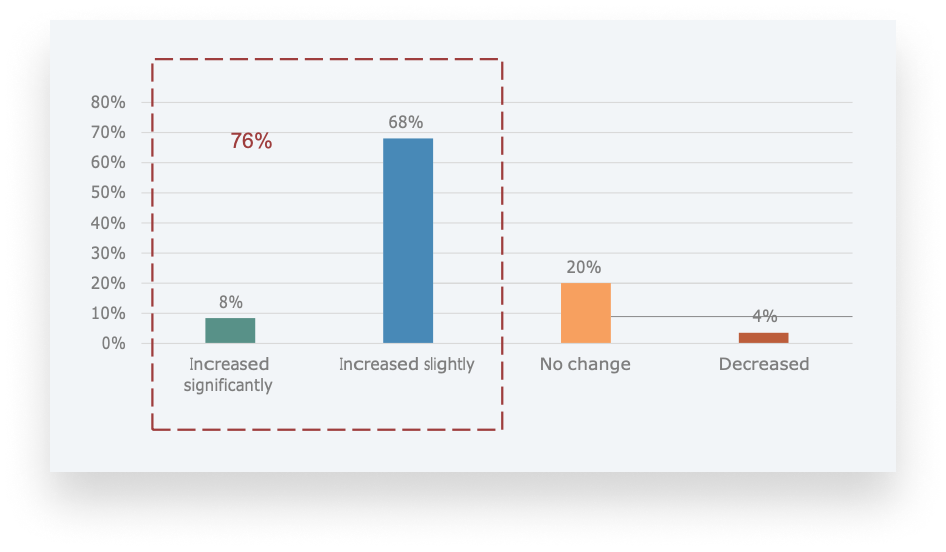 That reported increase is a long-term trend: This year's findings are remarkably consistent with a similar survey we fielded in 2021.
More than half of the respondents said that the use of Apple devices had grown faster in the past year than that of Windows or Android hardware. The biggest factor in that growth was the iPhone: 66 percent said that, of all Apple devices, its use had increased the most. (Two years ago, Mac notebooks saw the biggest jump.)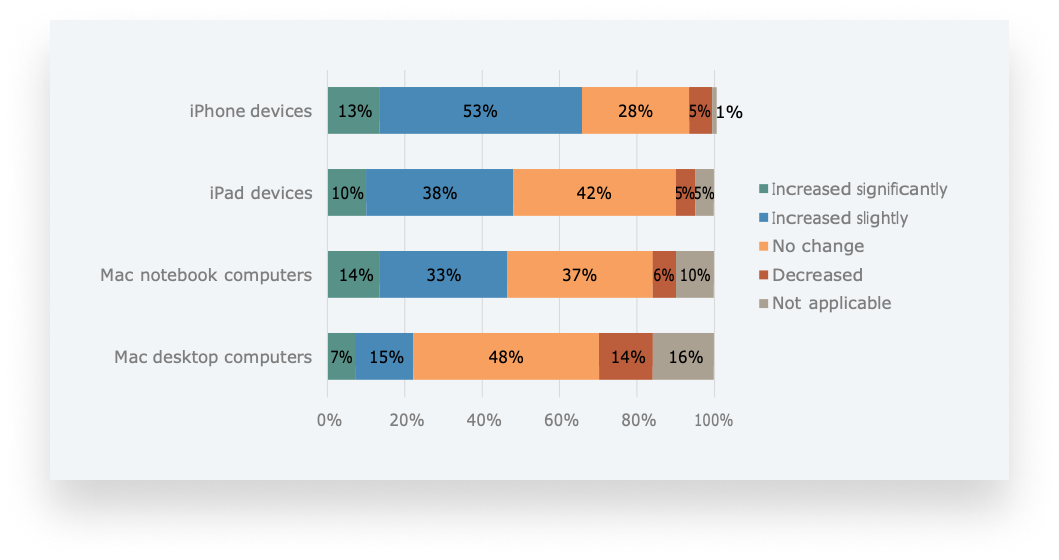 The iPad, meanwhile, retained its lead as the most frequently requested tablet for business use. The leading factors driving that demand, according to our survey, were mobility, employee demand, and the requirements of hybrid and remote work. Overall, IT leaders said that 82 percent of their users preferred a touchscreen to traditional computer interfaces.
Apple Enterprise Benefits
Nearly 90 percent of respondents agreed that their organizations benefitted by providing Apple devices to employees. Two-thirds of them specifically cited improved productivity as the biggest win. By a wide margin (56 percent to 15 percent), they said that iPhone and iPad devices, in particular, are better than their competitors when it comes to helping remote and hybrid team members get work done.
Security is the other big reason they're adopting Apple. Three-quarters of respondents say that Apple devices are more secure than other types of devices. They believe Apple products are less likely to be targeted by security threats or breached when they are targeted.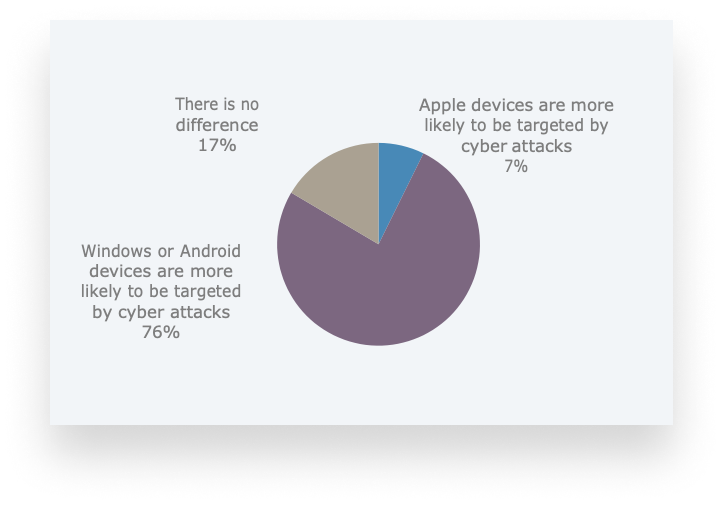 Unfortunately, that perception may be lagging reality: Apple-specific threats are actually on the rise—largely because of the company's success in the enterprise. While Apple devices are certainly still targeted less than other platforms, they're being targeted more than they were in the past. Fortunately, there are also more options now when it comes to enterprise-ready Apple security solutions.
Other reasons cited for Apple's success in businesses: 56 percent of IT leaders said reliability was a factor, while 53 percent cited the long lifecycle of Apple products. They also pointed to the manageability of Apple's platforms (thanks to products like Kandji).
But, interestingly, our respondents were less confident about their own device management practices than they were about Apple's products: Only 35 percent characterized their Apple device management capabilities as "Mature"; 93 percent said their organizations would benefit from additional management capabilities. We'll look at the factors that might explain that sentiment and what a mature device management practice might look like in a future post.
To download a full copy of the report, please visit Apple in the Enterprise report.
Survey Methodology
This survey was conducted by Dimensional Research and commissioned by Kandji. A total of 315 qualified participants completed the survey. All participants have direct responsibility for the selection, delivery, or management of Apple devices to employees and worked at a company with more than 500 end-user devices and more than 1,000 employees. Participants represented a wide range of job levels, industries, and global regions.
About Kandji
Kandji is the Apple device management and security platform that empowers secure and productive global work. With Kandji, Apple devices transform themselves into enterprise-ready endpoints, with all the right apps, settings, and security systems in place. Through advanced automation and thoughtful experiences, we're bringing much-needed harmony to the way IT, InfoSec, and Apple device users work today and tomorrow.
See Kandji in Action
Experience Apple device management and security that actually gives you back your time.
See Kandji in Action
Experience Apple device management and security that actually gives you back your time.