Apple IT Training and Certification: What You Need to Know

Arek Dreyer
Senior Product Engineer at Kandji
14 min read
In May 2022, Apple announced a new series of online IT training and certification programs. These programs follow two tracks: Apple Device Support and Apple Deployment and Management. The first is great for anyone who supports Apple devices and the people who use them. It's a foundation for the second, which is a great resource for people who deploy Apple devices, especially in the context of mobile device management (MDM).
The goal, the company says: "Apple training delivers everything you need to learn about the technology—online and on your time. Own your learning schedule with self-paced, online courses. Take proctored certification exams from your home or office. And after you've passed an exam, display your verified digital badge on any professional networking site."
I recently completed these two courses, took the associated exams, and earned my digital badge for each. I was really impressed with them, and I encourage you to check them out. Here's an overview of what these courses cover and what the certification exams are like.
Apple IT Training: The Old Way
Just to provide some context: Before joining Kandji in 2021, I co-authored several Apple training books and courses that supported official Apple training and certification. The last book I worked on was macOS Support Essentials 11 – Apple Pro Training Series: Supporting and Troubleshooting macOS Big Sur. It was the companion to a three-day, instructor-led, hands-on course.
Our book had 28 lessons. Each lesson contained a reference section that introduced and explained concepts, as well as an exercise section with detailed steps to perform tasks. The references gave background and context, and the exercises helped reinforce and illustrate the concepts. Our book was designed to work in two contexts: instructor-led environments (in person or virtually) or self-paced.
We structured the exercises so you could read through them even if you didn't have the appropriate test environment and equipment. We used screenshots to illustrate particularly complex tasks, such as turning off the DHCP service on your network and then attempting to refresh your DHCP lease. (TLDR: Your Mac gets a self-assigned IP address that starts with 169.254.)
But one of the challenges of the printed book format was that we couldn't provide dynamic illustrations to illustrate a series of steps. We could provide progressions of screenshots, but we faced a physical limitation: Each screenshot took up space on a page, and we had a limited number of pages available. (The last book I worked on was 975 pages long.)
What Are Apple's IT Training Courses Like?
Apple's new online training format overcomes several of those print challenges. For example, the new courses make great use of animations. Each animation illustrates the steps you'd take on an Apple device or in an MDM solution to accomplish a task. As you scroll through the tutorial, your web browser window displays a step and its context, along with an accompanying figure or screenshot. Many of the illustrations highlight the relevant portion of the screen. For example, in the "Backing Up iPhone or iPad" tutorial, backing up to iCloud is illustrated in four steps; backing up to a Mac is illustrated in six.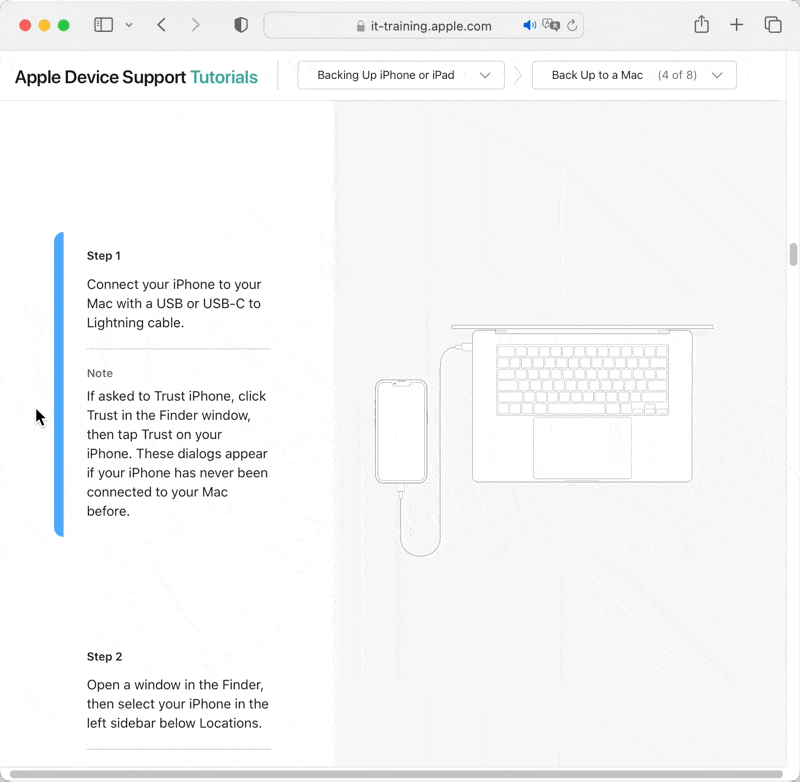 There are, however, some trade-offs with the new online format versus the instructor-led experience.
In the old in-person or virtual-group formats, students could ask for clarification on concepts and procedures; get assistance from an instructor if something unexpected happened during an exercise; and, best of all, have real-time discussions with others in the class to share experiences, victories, and mistakes that everyone could benefit from.
The new online format does have other advantages. You can go through the materials at your own pace in a location of your choosing. You don't need dedicated test equipment (unless you want to be hands-on) because Apple provides great animations to illustrate concepts and procedures.
It's easy to focus on course materials that are particularly relevant to tasks that your support staff, architects, and administrators perform. Start at the Apple Training homepage, select the course you're interested in (Device Support, Deployment and Management, or Apple Business Essentials), scroll to the bottom of the page, then, in the Get Started section, click the View Course link.
IT Training: Apple Device Support
For example, if you choose Device Support (the first course in the progression), that View Course link leads to Learn How to Support Apple Devices which says it will take an estimated 14 hours to complete the course. That page has an interactive table of contents, divided into five areas:
Introduction
Getting Started
iPhone and iPad
Mac
Exam Preparation
You click on an area's title to see the chapters within it. For example, the Mac area has four chapters:
Setting Up and Restoring Mac
Managing Network and Sharing on Mac
Managing Privacy and Security on Mac
Using Diagnostics on Mac
Each chapter has several bite-sized tutorials, each with an associated time estimate. For example, the chapter on "Managing Privacy and Security on Mac" includes four tutorials, with time estimates for each:
Turning On FileVault (15 minutes)
Managing Privacy on Mac (20 minutes)
Managing Mac Sharing Preferences (45 minutes)
Using Find My on Mac (45 minutes)
Each of those tutorials, in turn, includes several sections. For example, the tutorial "Managing Privacy and Security on Mac: Turning On FileVault" contains:
Set Up for This Tutorial
Choose Your FileVault Recovery Option
Learn About FileVault Secure and Bootstrap Tokens
Turn On FileVault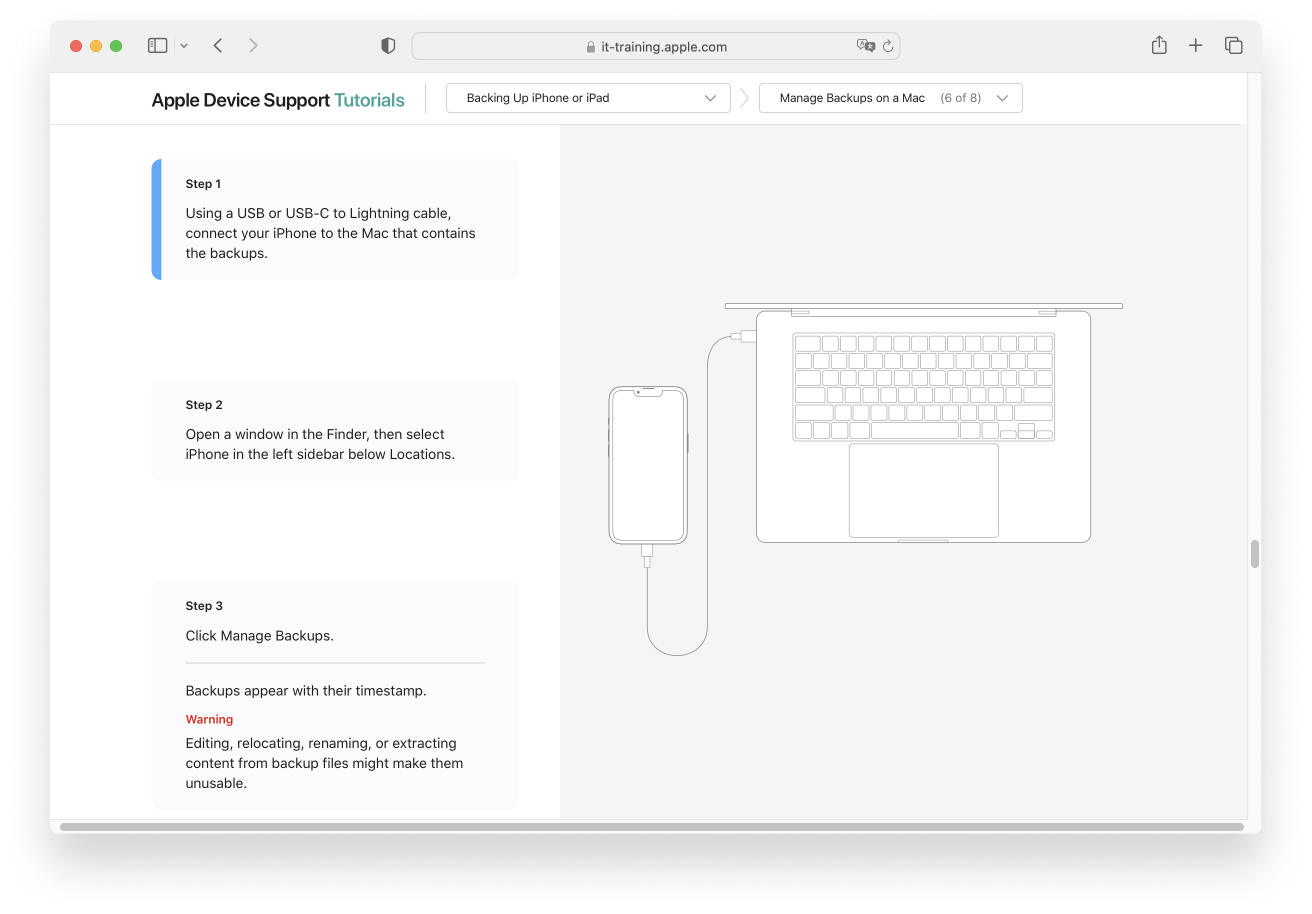 Each of those tutorial sections may contain substeps of its own. Each step is illustrated with graphics. As I worked through the tutorials, I found it really helpful to first read through the steps to get an understanding of what to expect, then to perform the steps on my own test Apple devices. For me, this repetition helped to reinforce the concepts that I first saw illustrated. Each tutorial includes a "Check Your Understanding" section with a few questions that you should be able to answer after completing the tutorial.
IT Training: Apple Deployment and Management
The second course in the progression, Apple Deployment and Management is set up similarly. Apple estimates it will take 13 hours to complete. The main areas of this course are as follows:
Introduction
MDM Planning
MDM Preparation
Device Enrollment
Device Management
Device Redeployment and Recycling
Exam Preparation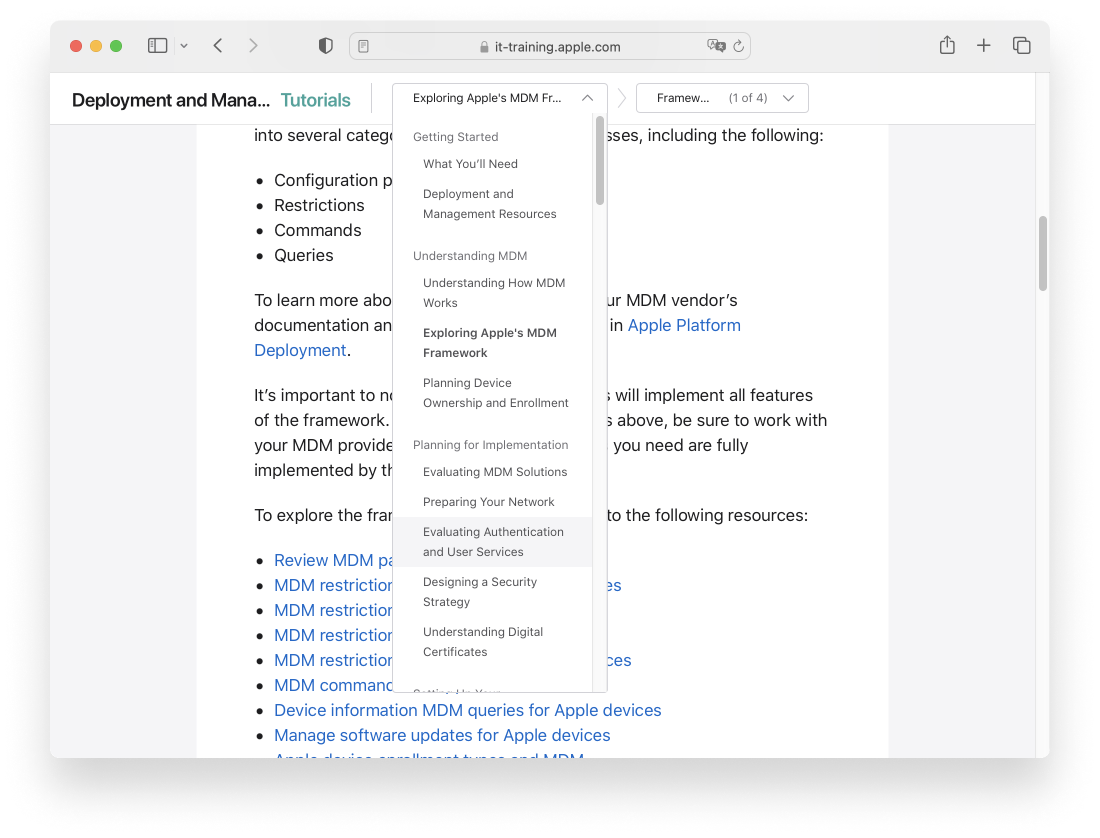 I found the navigation menus at the top of the browser window useful for quickly navigating to different parts of the course.
Preparing for the Apple IT Certification Exams
Each course has a dedicated "Preparing for the Exam" tutorial; each of those tutorials includes a section in which you can practice with sample questions. Apple Device Support has 10 sample questions; Apple Deployment and Management has 28.
For each of these two courses, Apple states, "You may need 30 to 60 hours to prepare for this exam, depending on your background, technical expertise, and experience supporting Apple devices." Furthermore, Apple states, "To pass the exam, you need to study multiple Apple resources and gain practical experience supporting Apple devices."
They aren't kidding about the need for experience and studying the additional resources. Don't neglect the latter. It's really difficult to write good and relevant exam questions, which include the question, the correct answer, and the incorrect answers (distractors). The team at Apple that built the exams for these two Apple courses did a great job. I think they have a good mix of questions directly from the course material, and relevant questions pulled from the additional resources.
Each course has a Resources tutorial (it's the second tutorial for each course). Many of those link to Apple resources. So, for example, the Resources tutorial for the Apple Device Support course contains links to the main support pages for iPhone, iPad, Mac, Apple ID, and iCloud; the user guides for iPhone, iPad, macOS, Activity Monitor, Console, iCloud, and Personal Safety; Apple Platform Security; and Security Certifications and Compliance Center. Exam questions may come from any of these articles.
The official estimate is that it will take 5 minutes to complete the Resources tutorial. But that estimate is just how long it would take to briefly review each link and understand what the resource includes; it would take much longer to fully explore and understand each one. For example, one of the linked resources is the Apple Platform Security guide, which is also available as a downloadable PDF file; that file is a hefty 242 pages long.
Currently, the exams are based on iOS 15, iPadOS 15, and macOS Monterey.
Taking the Apple IT Certification Exams
Although the courses are free, you'll have to pay $149 to take each exam. Apple writes and maintains the exam questions, but works with a third-party organization to administer and virtually proctor the tests. You can take the exam from your home or office; you don't have to worry about traveling to an external training site, but you do have to provide an appropriate space to take the exam.
I work from home. In order to take the exam, I had to take photos of the room—four photos in total, from the front, back, right side, and left side of my desk. I had to use a webcam to allow a proctor to monitor me while I took the exam. For my second exam, I was surprised that, when I started, a proctor said hello and asked me to use the webcam to quickly show them my keyboard and desk space. I agreed to do so in order to take the exam, but you should consider the privacy implications if you're going to require someone else to take and pass these tests.
Important note: You must pass the Apple Device Support exam before you can sign up for the second Apple Deployment and Management exam.
Earning an Apple IT Certification Badge
When you pass an exam, you get to use the Credly platform to share your digital badge.
You might be wondering whether this is a certification or a badge. Well, it's both. Traditionally many technology companies issued certifications. These were often paper printouts that got mailed to you, which you could then display on your wall and maybe add to your email signature. Over the past few years, badging has become the modern alternative to those traditional paper certificates. They have many advantages.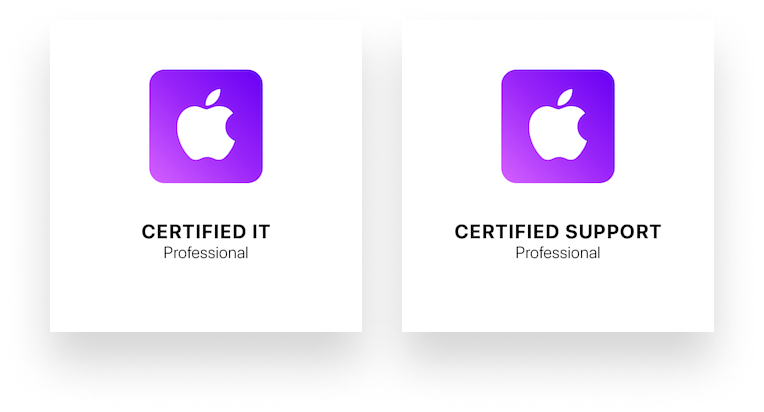 According to Credly, a badge (often referred to as a digital badge or open badge) is, "a digital representation of a learning outcome, experience or competency." Badges can be issued for just about anything and could have very simple requirements to earn. Other badges, such as the Apple IT certification badges, have stricter requirements and attest that an individual meets specific criteria.
The best part about digital badges is that you can share them on social networks where potential employers can see them. Each badge contains a link to a description of who the badge is designed for and what they did to achieve it:
The Apple Device Support leads to an Apple Certified Support Professional digital badge: "The Apple Certified Support Professional badge recognizes knowledge of the tools, services, and best practices used by a help desk professional, technical coordinator, or service provider who supports Mac, iPhone and iPad users, manages networks, or provides technical support for Apple devices."
The Apple Deployment and Management course leads to an Apple Certified IT Professional digital badge: "The Apple Certified IT Professional badge recognizes the understanding of the tools, services, and best practices used to deploy, secure, and manage Mac, iPhone, and iPad at scale in organizations. Individuals who have earned this badge demonstrate understanding of the concepts covered in the Apple Deployment and Management course. This badge builds on the Certified Support Professional badge, a required pre-requisite."
Are They Worth It?
For individuals, these new courses and exams are great resources for career growth. For organizations, they can help reduce support costs, run a more effective IT organization, and have happier and more productive users of Apple devices.
Apple's new online platform for courses is encouraging to see. Apple can deliver dynamic content online and offer certification exams no matter where the test-taker is located.
I can confidently say that these two courses and exams represent an excellent investment of time and effort on Apple's part. The teams that put these together did a great job. I encourage any Apple admin to use the free course material and consider taking one or both exams.
Editor's note: As of December 20, 2022, the Device Support and Deployment courses and exams were updated to cover iOS 16, iPadOS 16, and macOS Ventura.
See Kandji in Action
Experience Apple device management and security that actually gives you back your time.
See Kandji in Action
Experience Apple device management and security that actually gives you back your time.